It was in Berlin that Ismael found his way to the PKK. The Kurdistan Workers' Party, as the organization is formally called, is listed as a terrorist organization by Germany's intelligence services. The PKK is highly regarded by many Kurds for giving a voice to their concerns.

When asked directly about the PKK, Ismael leans over the table in a Turkish kebab shop in Berlin's Kreuzberg neighborhood and lowers his voice. He would prefer not to publish his full name or a photo. Some 800,000 Kurds live in Germany, making them Europe's largest diaspora. In Germany, the PKK enjoys a basis of social support that is not to be underestimated, says political scientist Gülistan Gürbey of Berlin's Free University.
German intelligence estimates that PKK supporters number around 13,000, and that the number is rising. Kurds have moved from Iran, Iraq and Syria, but the majority come from Turkey. There, they've been subjected to years of forced assimilation and repression. Those who spoke Kurdish or gave their children a Kurdish surname could be imprisoned - the same clearly also applied to those who stood up for Kurdish rights.

In the tiny village schoolhouse, an hour's walk from Ismael's parents' home, the pupils had to swear every morning that they were Turks. "If we spoke Kurdish, we were smacked," Ismael says, shrugging his shoulders and adding, "If the PKK had existed back then, I would have also gone into the mountains."

Millions in donations from Germany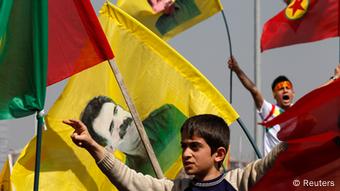 The announcement of a truce in March was greeted with cheers in Turkey's Kurdish regions
Ismael likely would have joined the Kurdish guerillas that launched an armed war against the Turkish state in 1984. However, he was studying in Berlin when the PKK began fighting from the mountains in southern Turkey for the establishment of an independent, socialist and Kurdish state - a campaign brutally driven back by Turkey's military. Ultimately he became not a guerilla fighter but what he calls a "sympathizer."

Ismael continues to be active in a Kurdish association and takes part in demonstrations against the Turkish military. "Nothing else," he said. Doing more than that could easily translate into being on the wrong side of the law.

In the 1990s, Turkey's civil war reached a boiling point. A series of attacks on Turkish institutions, travel agencies and other businesses in large German cities signaled that the Kurdish conflict had come to Germany. Subsequently, the PKK was banned and officially listed as a terrorist group in Germany and, later, in the EU. The PKK's propaganda arm includes television broadcasters, newspapers and cultural associations financed by donations from the Kurdish community. Berlin security officials report that the PKK each year takes in seven figures in total donations from Germany.

PKK 2.0?
Ismael dismisses criticism of the PKK, claiming that no one is actively recruited into the organization. He pauses briefly when asked about the donations before saying that they, too, are made voluntarily and without coercion. Perhaps, he goes on to add, there could be instances where it has come to blackmail. "But those are bandits who are just pretending to be the PKK," Ismael said.

The police in Berlin agree with the description of just isolated cases. In recent years, there have indeed been investigations connected with possible cases of blackmail by the PKK. But they have been "very isolated," said a police spokesman to DW. The last case dates to five years ago.

New strategy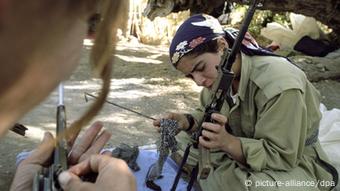 Many women fight in the ranks of the PKK
Journalist Nick Brauns pushes a thick book across the table in the sunny kitchen of his Berlin apartment. "Are you familiar with this? It's the standard work about the PKK?" he said. Brauns wrote it three years ago. Recently, police seized a copy during a raid at a Kurdish association. "Good PR," says Brauns with a shrug of his shoulders. It was 20 years ago that the journalist, who today works for Germany's Left party, learned of the PKK while demonstrating against the First Gulf War.

Since then, Brauns has been an activist for the Kurdish cause, sometimes writing flyers and having made multiple trips to PKK camps in the Turkish mountains. Brauns is certain that he's under surveillance by German intelligence - needlessly, in the former journalist's opinion. The PKK has, he says, attempted to improve its image in Europe in recent years, focusing on presenting itself as moderate.

A founding member of the PKK, Muzaffa Ayata, stresses that the PKK has been given strict instructions to conduct itself in a legal and peaceful fashion. Ayata, who now lives in Stuttgart, admits that there's no guarantee that individual Kurds won't be provoked. He describes the change that the PKK has undergone since the late 1990s under directions from its leader, Abdullah Öcalan, who has been in Turkish prison since 1999.

The fight for a Kurdish national state has been replaced by demands for more rights for Kurds within Turkey. In recent years, many Kurds have made their way to Istanbul and other major Turkish cities in search of jobs. That makes building up a national state difficult. Plus the Turkish government has made concessions in the meantime, now permitting Kurdish television broadcasts and language schools.

Time to reevaluate?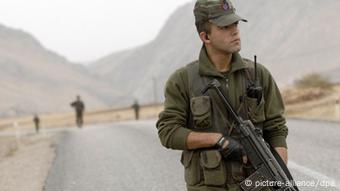 Whether Turkish soldiers patrol the south in future remains to be seen
The PKK has recognized that its conflict with Turkey cannot be won militarily, said Rainer Heider of the initiative "Freedom for Öcalan." That's why Heider believes the PKK shifted its military strategy away from armed combat or the "liberation" of Kurdish areas in southern Turkey and toward guarantees earned through the political process.
"Until now the armed struggle has gone okay," said Ishmael. "But now it is time to take the fight to a political level." Ishmael refers to talks a few months ago between the PKK and the Turkish government. Lawmakers promised more rights for Kurds, so the PKK retreated to the mountains to disarm. In late March, the PKK declared a cease-fire.
If peace prevails, says political scientist Gürbey, Germany will have to reconsider the ban in place on the PKK: "It will have to underetake a new evaluation." However, this is currently not under consideration by German security officials. Past negotiations have been held and ceasefires broken. Complete disarmament by the PKK is still a long way off, they say.
"When the weapons are there, then you should arm yourself," says Ismael. He doesn't trust the Turkish government and points to Syria where an offshoot of the PKK is fighting against Bashar al-Assad's regime in the Kurdish border region. "No, it is not yet time to lay down the weapons," explains Ismael. "The future is too uncertain. Only when Kurds and Turks are truly equal can the fighting cease."