Volkswagen announced on Tuesday it had made a net profit of €12.15 billion ($13.7 billion) in 2018, beating analysts' forecasts. The profit comes despite huge charges linked to its "Dieselgate" emissions-cheating scandal, and a difficult road ahead due to tough new pollution tests.
The operating results of the main brand Volkswagen was €3.2 billion as opposed to last years €3.3 billion.
All together VW sold 10.8 million vehicles around the world from its 12 brands, bringing in €235.8 billion, with revenues posting slower growth than profits.
"We performed very well in spite of strong headwinds," chief executive Herbert Diess said in a statement.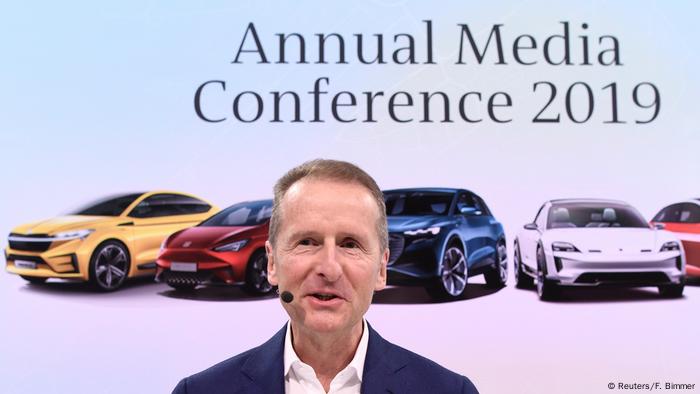 CEO of Volkwagen talks to the press
Emissions and Dieselgate
One major burden was the WLTP emissions tests, that were introduced since VW's 2015 admission that it manipulated millions of cars worldwide to appear less polluting.
Volkswagen had to come up with €3.2 billion to cover costs relating to "Dieselgate", the same as the previous year.
A large proportion of the costs came in Germany as VW paid a group-wide fine of €1.0 billion, while high-end subsidiary Audi had to forfeit €800 million.
Overall, since 2015, legal costs, fines, buybacks, and refits to affected cars have cost VW €29 billion, the group said.
Electric cars
In an announcement on its website, Volkswagen said that it was planning on increasing the number of models of electric cars from 50 to 70. It also said that in the next 10 years it was projecting that it would increase the number of electric cars produced from 15 million to 22 million.
"Volkswagen is seeking to provide individual mobility for millions of people for years to come — individual mobility that is safer, cleaner and fully connected. In order to shoulder the investments needed for the electric offensive we must make further improvements in efficiency and performance in all areas," Diess said.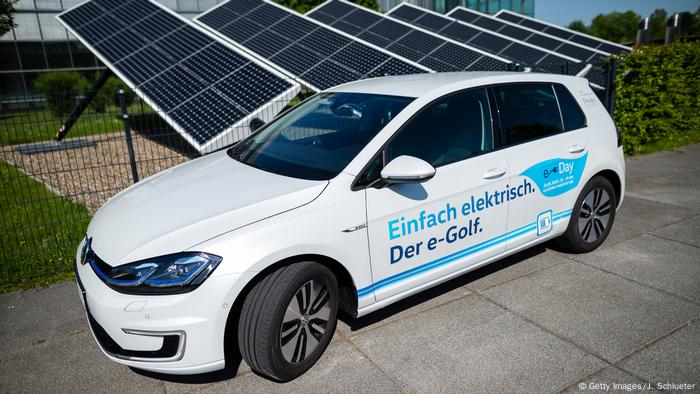 VW announces major increase in electric cars
The Wolfsburg automaker added that in order to boost e-mobility further, it would be installing 400 fast-charging stations along Europe's major roads and highways by 2020 in collaboration with industry partners in IONITY. A hundred of them would be located in Germany — so there would be a station every 120 kilometers (75 miles).
av/jm /AFP, Reuters)
Each evening at 1830 UTC, DW's editors send out a selection of the day's hard news and quality feature journalism. You can sign up to receive it directly here.