In his first visit to Israel as prime minister, Hungarian Prime Minister Viktor Orban pledged on Thursday that his country has a "zero tolerance" policy toward anti-Semitism.
"We are proud that in Hungary, self-identifying Jews, who celebrate and preserve Jewish tradition can feel safe," he said in remarks translated from Hungarian to Hebrew.
Orban made the comments following a meeting with Israeli Prime Minister Benjamin Netanyahu, claiming that negative remarks about the Israeli state are also a form of anti-Semitism.
"We are ready to cooperate in everything connected to the war against anti-Semitism and we think that one of its forms of anti-Semitism is expressions against the state of Israel," Orban said.
When greeting Orban, Netanyahu called him "a true friend of Israel." The two leaders have found common ground in their right-wing views and opposition to migration, despite controversy over Orban's nationalist rhetoric.
"You have stood up for Israel time and time again in international forums, it is deeply appreciated and it is important," Netanyahu told Orban, adding that both leaders "understand that the threat of radical Islam is a real one."
Opposition criticizes Orban visit
Israel's opposition groups condemned Orban's visit to Israel as a "disgrace."
"Israel was established so that Jews could stand up to the world and not fear or be subservient to anti-Semites," said Yair Lapid of the centrist Yesh Atid party.
"It is a shame that Netanyahu is bending over to the East European leader who is busy eroding democratic values in his country," he added.
Orban received a less warm welcome later on Thursday when he met with Israeli President Reuven Rivlin, who acknowledged Orban's stance against anti-Semitism but warned against the dangers of "neo-fascism."
Orban is due to visit the Yad Vashem Holocaust Memorial later on Thursday, with protests against the Hungarian leader expected.
Amnesty International, which organized the protest, accused Orban of being "on the verge of Holocaust denial" as well as for oppressing minority groups and the country's political opposition.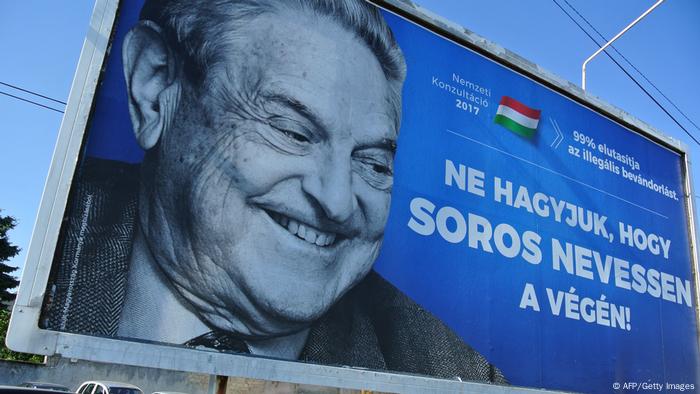 Orban was accused of using anti-Semitic imagery in his government's campaign against billionaire George Soros last year
Accusations of anti-Semitism
Orban has been accused of stoking anti-Semitism in Hungary with his nationalist rhetoric and his campaign against Jewish billionaire and philanthropist George Soros.
A government poster campaign against Soros over his alleged support of mass immigration was heavily criticized for its use of anti-Semitic imagery.
Netanyahu retracted Israel's criticism of the campaign against Soros, saying he "undermines" the Israeli government. The move sparked anger from both sides of the political aisle in Israel.
Orban also previously praised Hungarian leader Miklos Horthy, an ally of Adolf Hitler, who cooperated with the Nazis. After facing criticism for historical revisionism, Orban declared Hungary's collaboration with the Nazis "a crime" last year.
rs/ng (AFP, dpa, Reuters)
Each evening at 1830 UTC, DW's editors send out a selection of the day's hard news and quality feature journalism. You can sign up to receive it directly here.