State prosecutors in Vietnam announced on Tuesday that several high-ranking oil executives had been charged with corruption and wrongdoing in economic management — including a businessman at the center of a diplomatic spat between Berlin and Hanoi.
Trinh Xuan Thanh, who was allegedly kidnapped in Berlin by Vietnamese security forces in July, was charged along with 21 other executives, according to the prosecutor's statement.
Read more: 'Cold-War-style kidnapping' - Berlin waits in vain for signal from Hanoi
Embezzlement and mismanagement charges
Thanh is accused of mismanagement as well as property embezzlement in his former role as chairman at PetroVietnam Construction (PVC), a subsidiary of the state-run oil giant PetroVietnam.
According to the prosecutors' statement, Thanh and former PetroVietnam chairman Dinh La Thang also broke the law when PetroVietnam awarded a power plant contract to PVC without including a bidding process.
Read more: Vietnam state oil firm boss Nguyen Xuan Son faces death penalty for embezzlement
Thanh allegedly ordered the PVC to advance $66 million from PetroVietnam for the construction project, but then used a majority of the money for other PVC purposes. According to the indictment, the move caused the Vietnamese government to lose $5.4 million.
Meanwhile, Dinh La Thang is a former Politburo member of Vietnam's ruling Communist Party and was previously party committee secretary for Ho Chi Minh City. He is the most senior politician to be caught up in Vietnam's corruption crackdown.
Their trial is set to begin in January, Chief Judge Nguyen Huu Chinh of Hanoi City's court said. If convicted, they could both face the death penalty.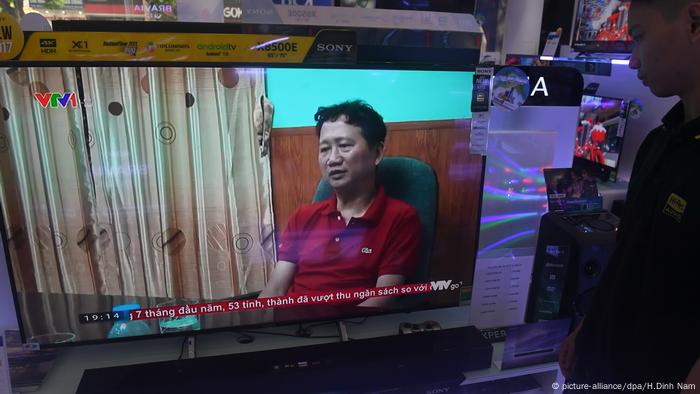 Thanh appeared on state TV in Vietnam several days after he disapeared from Berlin
German-Vietnamese tensions
Thanh fled to Germany in 2016 to evade criminal charges in his home country. He had applied for asylum in Germany and was due to appear at an appointment about his request on July 24 this year, but he disappeared the day before.
The German government has accused Vietnamese intelligence agents of abducting Thanh from Berlin's Tiergarten park and quickly flying him back to Vietnam. Hanoi said in a statement that Thanh had willingly turned himself in to police.
Following the incident, Germany expelled two Vietnamese diplomats and has accused Vietnam of violating national and international law.