The federal prosecutor's office announced on Thursday that it was taking charge after new evidence surfaced suggesting former oil executive Trinh Xuan Thanh was likely taken to the Vietnamese embassy in the German capital before being spirited away to Vietnam.
The prosecutor's office, based in the southern city of Karlsruhe, said its probe would focus on allegations of foreign intelligence activity and unlawful deprivation of liberty. Berlin city authorities had previously been handling the case, but German news agency dpa cited a source at the national prosecutor's office as saying that they had taken over the case because of the suspected involvement of foreign intelligence agencies.
The German government says Vietnamese operatives captured Thanh in July and speedily flew him to Vietnam, where he is facing charges of corruption and embezzlement - offenses that carry the death penalty. However, Hanoi says that the 51-year-old returned to Vietnam of his own volition to hand himself in to police.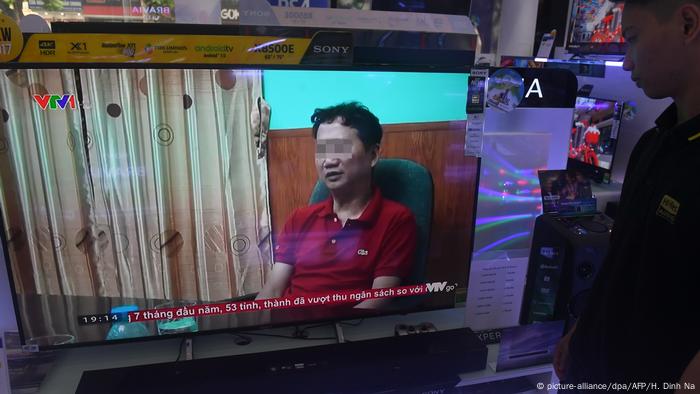 Soon after his return to Vietnam, a tired-looking Thanh appeared on state-run television, saying he had returned voluntarily
Diplomatic spat
Witnesses reported seeing armed men pushing Thanh and a female companion into a car outside the Sheraton hotel in Berlin's Tiergarten district on July 23. Both then appeared several days later in Hanoi.
The federal prosecutor's office said it believed "the victims were taken to the Vietnamese embassy in Berlin and from there to Vietnam."
"Against that backdrop, the federal prosecutor's office has taken over the investigation," it added.
Thanh was seeking asylum in Germany at the time. Following his disappearance, German authorities ordered Vietnam's intelligence attaché in Berlin to leave the country and demanded Thanh be allowed to return to claim asylum.
Vietnamese officials had requested earlier this year that Germany extradite Thanh, who is accused of mismanagement at a subsidiary of the state-run oil giant PetroVietnam, resulting in losses of some $150 million (127 million euros).
The prosecutor's office said that Vietnam had now withdrawn that extradition request.
The German government said on Thursday that it was considering what steps to take, given Vietnam hadn't responded to its demand for Thanh be allowed to return to Germany.
nm/msh (Reuters, AP, AFP, dpa)