First things first: No, I'm not a vegan. But, yes, I try to avoid eating meat, fish, eggs and milk. What's the difference? What I do could be considered a selfish attempt to lead a healthier lifestyle. A strict vegan will reject any animal products, including things like honey or wool. In other words, if an animal was involved, even if it wasn't killed in the process, it's not vegan.
While true veganism may not appeal to the masses just yet, purely plant-based eating is gaining considerable traction, especially in urban areas. Many people who have not come into contact with vegans lately may still envision the lifestyle to be something practiced mostly by hemp-wearing hippies. But I have news for you: Veganism is the new black.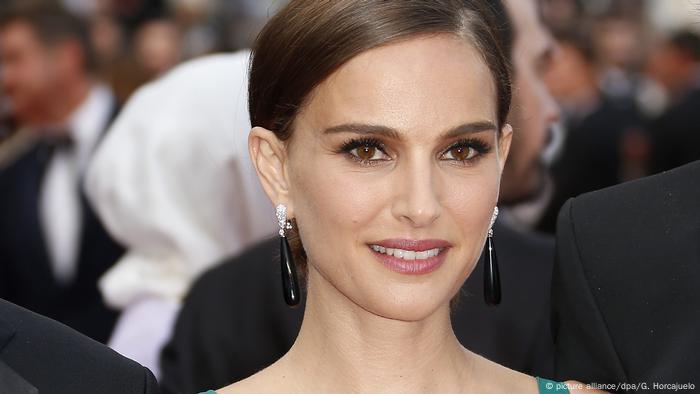 Many celebrities, including Natalie Portman, are vegan ​ ​
Natalie Portman, Anne Hathaway, Jessica Chastain, Liam Hemsworth, Jared Leto, Moby, Joachim Phoenix, Olivia Wilde, Alanis Morissette, Zoe Deschanel and — to mix it up a bit — Al Gore: they are all vegans or have been at some point. And it's a growing trend.
Gorgonzola and feta — no milk required
That was nowhere more apparent than at the Green Market Berlin, which had its fall outing this past weekend. It's probably no coincidence that the event was held at the Funkhaus Berlin, the same place where I recently explored sustainable fashion.
It's a cool venue and the entire event had a decidedly hipster-ish vibe with striking tattoos and muchstaches at every turn. You could get delicious kale chips and vegan sushi, but also vegan dougnuts, and vegan liverwurst — one of those German meat specialties I never really took to, although, the plant-based alternative was quite delicious.
A small family business (run by a husband and wife) sold"oHnig" a tasty vegan alternative to honey and a clever word play in German. It's a combination of "Honig" (honey) and "ohne" ("without"). There were also T-shirts that read "orange is the new bacon" in reference to — well, you get it or you don't.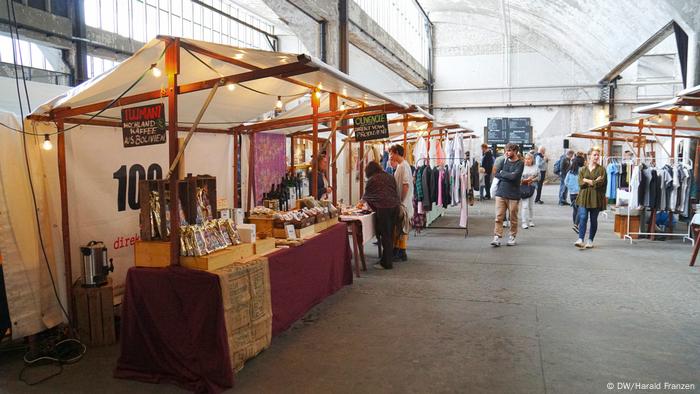 With its rustic industrial charm, the Funkhaus Berlin is a hot venue for events these days — the perfect setting for a vegan market
But the market didn't just illustrate that being vegan is trendy, it also showed that it is becoming easier every day. There are alternatives to animal-based products for virtually every occasion at this point and they are getting better and better. One of the most popular stalls at the market belonged to a Polish company calledSerotonina, which sells vegan cheese alternatives. The options here weren't limited to yellow or orange slices, they included things like gorgonzola, mozarella or feta.
And perhaps far more importantly, you don't have to live in Berlin to get most of these products. Granted, the range of vegan restaurants you can find in the capital is unmatched elsewhere in Germany. There aren't too many other places you will find vegan "butchers" or entire supermarkets that sell nothing but vegan products.
But nationwide supermarket chains like REWE or EDEKA have hopped on the trend as well and now sell the vegan equivalents of sliced cheese and cold cuts, yoghurt, chicken nuggets and cream cheese. Drug store chains like dm or Rossmann stock large amounts of vegan products like rice milk, canned "chili sin carne" or tofu sausages. Even famous German chocolate manufacturer Ritter-Sport has added two vegan varieties to its product portfolio.
So if this trend continues, vegan may no longer be the hottest fashion but just the plain old shirt from your local department store.
Even better.