At first sight, it seems to be a regular butcher's shop. The scales on the counter, the knife, the cutting machine - it's all there. The cooling section presents a mouth-watering bonanza for barbecue-lovers: sausages, hamburgers, meatballs, poultry kebabs. Even tuna and calamari are available. What more do you need for a great cookout?
You can indeed cook out with the culinary delights that Jaap Korteweg offers in his concept store in The Hague. But here's the twist: all the food is plant-based and no animals are harmed in its making.
"Made from soy beans and peas, lupin seeds and cereals," the 54-year-old farmer explains as he retrieves a package of 'Little Willies' English breakfast sausages from the refrigerated counter. "One of our latest and most popular products!" he adds proudly, pointing out the round logo, which reads "De Vegetarische Slager" (the vegetarian butcher).
That's the name of the company Korteweg founded on World Animal Day in 2010. His goal is to offer even confirmed meat-lovers an alternative that is animal-friendly as well as something that vegetarians can enjoy without remorse. His wares are eco-friendly too. They don't stress the environment in the way "normal" meat products do.
"We need only half as much agricultural surface, and only a third of the water and fertilizer," says Korteweg.
'Meat must become an ancillary item on our plates'
Korteweg was pushed into action by the last outbreak of swine fever that ravaged Europe in the fall of 1997. Nowhere was worse hit by the disease than the Netherlands with its extremely intensive industrial farming sector and the highest density of pigs in the world. Home to 15 million of the animals, the country has nearly as many pigs as humans.
To stop the disease spreading like wildfire, 12 million pigs were preventatively killed within 13 months. Only about 700,000 were actually infected.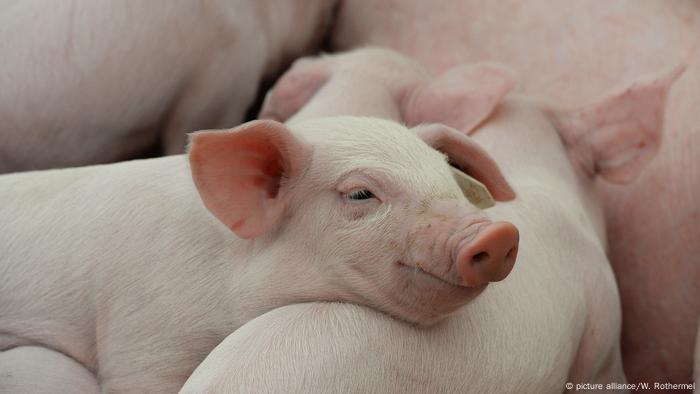 ​Jaap Korteweg decided to open a vegetarian butchers after a bad outbreak of swine fever in The Netherlands
But where to put the millions of carcasses? Korteweg, a ninth-generation farmer in the south of the country, was among those asked to help out by putting dead pigs in his cold storage units while the animal crematories worked through the backlog.
"That was the moment I told myself: You don't want to be a part of this miserable system anymore," the farmer remembers. His own farm had just recently gone organic. And he, like his wife and four daughters, had become a vegetarian. Still, he wanted to do more.
As David once took on Goliath, he decided to compete with the "bio-industry," as industrial farming is euphemistically called in the Netherlands.
Whether it is steaks and roulades, goulash soup or spaghetti bolognese, tuna salad or smoked mackerel - one by one, he wants to replace every meat and fish dish on the market with a vegetarian alternative. "Meat must become an ancillary item on our plates," he says.
A 'plant-based slaughterhouse'
But why can't people just switch to veggies and salads? Why do we need a substitute that looks and tastes like meat? Isn't that hypocritical? Jaap Korteweg laughs out loud. He gets that question a lot.
"Because many people are addicted to meat. Because they are anxious about the idea of not eating meat anymore. And that fear is so great that rational arguments don't get through," he explains, citing himself as a prime example. "I was a passionate carnivore. And I just wanted to keep eating my sausages and my bacon."
At first, people ridiculed him for his endeavor. Challenge the meat industry? Nice try! But success has vindicated him. At the beginning of 2018, he will expand his business by adding what he calls a huge "plant-based slaughterhouse" in Breda in the southern Netherlands.
The project will cost 10 million euros ($11.8 million), a quarter of which he crowdfunded within in three weeks. It exceeded Korteweg's wildest expectations. He had initially hoped to raise 1 million euros in three months. "I could have raised 10 million, but we had to stop," he says. The legal fundraising limit is 2.5 million euros. He took out a bank loan to cover the rest.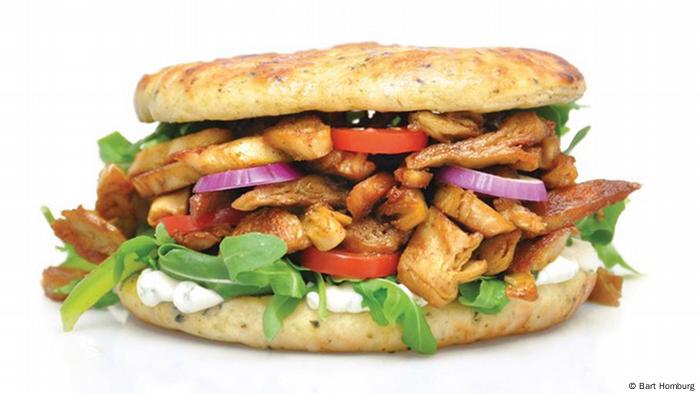 No animals were butchered in the making of this burger. It's totally plant-based
Korteweg plans to make 50 million meat substitute meals each year in his new factory. But the "De Vegetarische Slager" logo can already be found on the cooling counters and in the refrigerated aisles of about 3,000 outlets in 13 countries, including in snack bars, restaurants, "regular" butcheries and many grocery stores.
Better than the real thing?
Among them is the largest Dutch supermarket chain Albert Heijn, where Korteweg's vegetarian version of the popular sausage roll "saucijzenbroodjes" ranked first in taste tests. "We even beat the 'real' saucijzenbroodjes with meat," product developer and chef Paul Bom emphasizes.
The chef and his team explore new meat substitutes in a trial kitchen in the back of the store. "All we need is a blender, a mixer and a grinder, like in any other kitchen," the 44-year-old says. Well, that and the expertise he has accumulated over time.
Spices and consistency are key: "You must be able to cut the meat substitute without it crumbling; and you have to be able to roll the substitute cold cuts." A combination of carob bean flour and carrageenan made from red algae cells works really well here.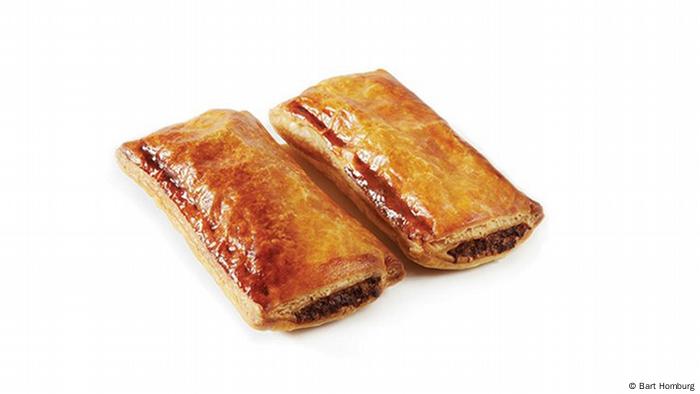 'Sauzijsenbroodje' are a kind of Dutch sausage roll or pasty. Jaap Korteweg makes a veggie option, pictured here
Sometimes, the team happens upon new products. "We discovered our calamari by sheer coincidence while trying to develop fish nuggets - which ended up tasting like fried calamari," explains Bom.
Whenever a new product is ready for market launch, things get challenging for the team. Then they have to make 200 or 300 pounds (91 to 136 kilograms) instead of the five or six pounds of product made in the trial kitchen. "And they may all taste different, even though we're using the same recipe!" adds the chef. That means back to the trial counter to experiment, blend and stir some more.
Right now, the vegetarian butchers are developing a plant-based steak to convince even die-hard meat aficionados. But that won't be ready for another couple of years. Another product is a lot closer to market launch, yet it is still a secret. Bom provides a hint: "You can spread it on bread."
This article was written by Kerstin Schweighöfer, a freelance foreign correspondent for German media in the Netherlands, reporting on the Benelux countries for the ARD public radio stations, for Deutschlandfunk, FOCUS and art magazine, among others. The article was reproduced here with the kind permission of FUTUREPERFECT, a joint venture of the German foundation FUTURZWEI and the Goethe-Institut. Distributed under a Creative Commons license.