President Obama said late Sunday that he has decided to send up to 250 more military personnel to Syria to help local forces fighting the "Islamic State" (IS) group.
The move, first reported by "The Wall Street Journal" newspaper, confirms earlier reports that the Obama administration was considering boosting the number of special operations forces in Syria in hopes of accelerating gains against IS jihadists.
An unnamed US official told the Reuters news agency that the administration was unable to break down how many of those would be special operations forces and how many might be involved in support activities, such as medical and intelligence personnel.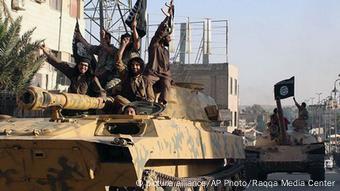 Countering IS has been a focus of Obama's talks with leaders in Germany, Saudi Arabia and the UK
Expansion of 'Islamic State' a global focus
The news comes a day after the US president ruled out a ground invasion to remove Syrian President Bashar Al-Assad.
"It would be a mistake for the United States, or Great Britain, or a combination of Western states to send in ground troops and overthrow the Assad regime," Obama told the BBC on Sunday.
About 50 US special operations forces are already operating in Syria.
IS controls the cities of Mosul in Iraq and Raqqa in Syria and is proving a potent threat abroad. It has claimed credit for major attacks in Paris in November and Brussels in March.
jar/cmk (AP, Reuters)