President Donald Trump is set to meet with House Republicans this week to discuss immigration legislation, facing pressure over his administration's policy of separating migrant children from their parents at the US-Mexico border.
The controversial policy has drawn public and political backlash nationwide and has also been criticized by the United Nations.
UN Human Rights Chief Zeid Ra'ad Al Hussein urged the US to stop the family separations in his opening remarks on Monday, at a meeting of the UN Human Rights council in Geneva, Switzerland.
"The thought that any state would seek to deter parents by inflicting such abuse on children is unconscionable," Zeid said.
And, in a rare criticism of the United States, a spokeswoman for UN Secretary General Antonio Guterres said: "children must not be traumatized by being separated from their parents. Family unity must be preserved."
President Trump has consistently blamed Democrats for the situation, saying their support for passage of a broader immigration bill would end the separations. On Twitter, he wrote that "Democrats can fix their forced family breakup at the border by working with Republicans on new legislation, for a change!"
Speaking to broadcaster NBC on Sunday, White House adviser Kellyanne Conway said "nobody likes" breaking up families and "seeing babies ripped from their mothers' arms."
Conway also blamed the Democrats, saying if they are serious about overhauling the immigration system, "they'll come together again and try to close these loopholes and get real immigration reform."
Some 2,000 children were separated from their families between mid-April and the end of May after the Trump administration announced a new "zero-tolerance" policy and the referral of all illegal entry cases for criminal prosecution. As a result, the children — who are not charged with a crime — are separated from the adults in their families. There is no clear procedure for family reunification.
Previous administrations had referred migrants with children to immigration courts.
Images of children living in converted buildings near the border and tents being erected to house migrants have led to fierce political debate and comments from some unexpected quarters.
First lady speaks out
Melania Trump has made few public statements to date, but on Sunday her communications director, Stephanie Grisham, told broadcaster CNN: "Mrs. Trump hates to see children separated from their families and hopes both sides of the aisle can finally come together to achieve successful immigration reform."
Grisham said Melania Trump "believes we need to be a country that follows all laws, but also a country that governs with heart."
Criticism of the president has come from a range of lawmakers, including Republicans in Congress.
Senator Susan Collins, a Republican from Maine, said the administration was sending a message to migrants. "If you cross the border with children, your children are going to be ripped away from you. That's traumatizing to the children who are innocent victims, and it is contrary to our values in this country," she said.
Californian Democrat Representative Adam Schiff said the administration was "using the grief, the tears, the pain of these kids as mortar to build our wall. And it's an effort to extort a bill to their liking in the Congress."
Trump is expected to meet with House Republicans on Tuesday to discuss immigration legislation, including the Trump proposal to build a wall along the border with Mexico.
Protests in New York and Texas
In a Father's Day demonstration on Sunday, seven Democrat members of Congress from New York and New Jersey joined hundreds of protesters outside an immigration detention facility in New Jersey to protest the separations. "This must not be who we are as a nation," said Representative Jerrold Nadler.
In Texas, Democrat Representative Beto O'Rourke led a march to where a new tent facility for children has been opened. He called the situation "inhumane" and "un-American."
"We can do the right thing by this country and for those kids, and not do it at the price of a 2,000-mile, 30-foot-high, $30 billion wall, not doing it at the price of deporting people who are seeking asylum, deporting people in some cases back to certain death, not doing it at the cost of ending family migration, which is the story of this country," O'Rourke said.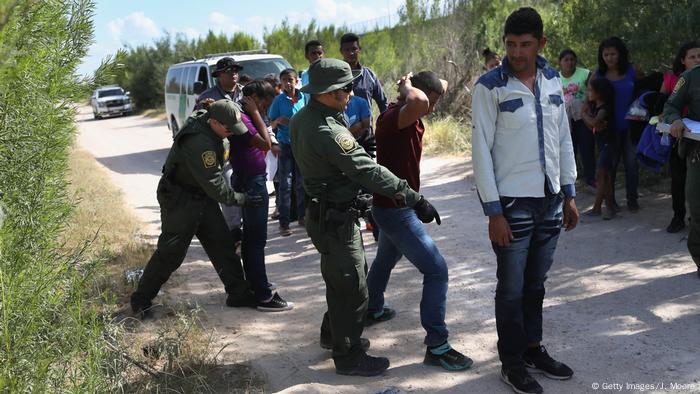 Since April, Border Patrol agents have been executing Trump's 'zero tolerance' policy toward undocumented immigrants
Deadly crash after Border Patrol chase
Also Sunday, at least five people died when an SUV vehicle carrying 14 people went out of control after it was chased by US Border Patrol agents in south Texas.
Dimmit County Sheriff Marion Boyd said most of the occupants were believed to lack legal permission to be in the US. The driver and one passenger were believed to be US citizens. "This, I think, is a perfect example, of why our borders need to be secured," Boyd said.
jm/cmk (AP, Reuters)
Each evening at 1830 UTC, DW's editors send out a selection of the day's hard news and quality feature journalism. You can sign up to receive it directly here.