The foreign ministers of China and Russia are lashing out at US plans to deploy a missile defense system in South Korea.
With North Korea continuing a series of missile tests and claiming to have detonated a more powerful nuclear bomb (a claim questioned by international experts) earlier this year, the United States and South Korea have begun talks on deploying a US-made missile-interceptor battery south of the demilitarized zone (DMZ).
Chinese Foreign Minister Wang Yi voiced his opposition during a press briefing Friday in Beijing, accompanied by his Russian counterpart, Sergey Lavrov.
"We both are gravely concerned about the US's likely deployment of the THAAD system in South Korea," Wang said. "The move goes beyond the actual defense needs of relevant countries."
"It will directly affect the strategic security of China and Russia respectively if it is deployed," Wang added.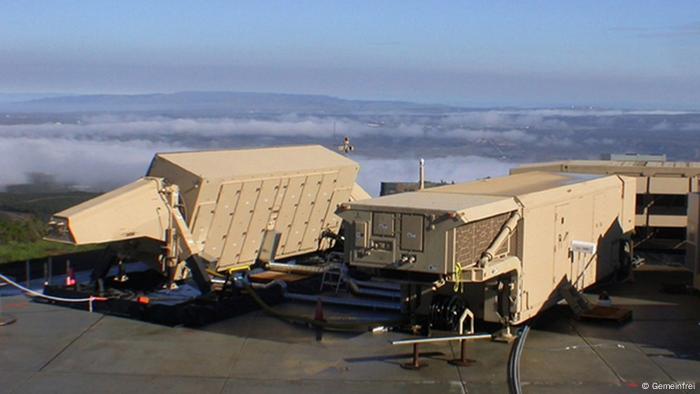 The AN/TPY-2's manufacturer claims that it can track a baseball from hundreds of miles away
Lavrov slammed the United States for using the North's tests as "an excuse, as a pretext" to deploy what he called the US's "global antiballistic missile defense."
Pentagon spokesman Bill Urban rejected that characterization in a phone interview and laughed at the suggestion that the system could pose a threat to China or Russia.
"We are responsibly responding to a threat posed by North Korea to our own military and our allies," he said, referring to the nearly 30,000 US troops deployed south of the DMZ. "It's a prudent decision."
Independent experts agree that the system poses no threat to Russia, both because of the country's distance from the proposed interceptor/radar site and because of its massive arsenal of missiles both on land and at sea, which far exceeds China's capacity.
These same experts agree that the interceptors that would be based in South Korea also pose no threat to Russia or China. But they say the Chinese have a legitimate security concern regarding the highly sophisticated radar, the AN/TPY-2, that would be deployed in conjunction with the interceptors.
'A nice radar'
The radar has the capacity to "see" about 2,500 miles (4,000 kilometers), according to the manufacturer, Raytheon. This could act as an early warning system for the US, giving interceptors based in Alaska more time to target and knock out any incoming missiles from China, according to Matthew Bunn, a professor of security at Harvard's Belfer Center for Science and International Affairs.
"It's a nice radar," Bunn said in a phone interview. "With a radar located in South Korea, the United States could track missiles in their boost (ascent) phase, making it easier to intercept a Chinese missile."
A similar statement was made by Ted Postol, professor emeritus of science, technology and international security at the Massachusetts Institute of Technology.
"Data about a Chinese ballistic missile heading for the West Coast of the US would be particularly useful for the US," Postol told the Korean newspaper Hankyoreh last year. "This could enable ballistic missile interceptors in Alaska to be launched more quickly."
Indeed, Fred Kramer, the manager of the radar's development program at Raytheon admits as much on the company's website.
It "has become more of a strategic, 24/7 asset," Kramer wrote. "It's forward-deployed around the world and can provide early warning and discrimination to the larger ballistic missile defense system, and can be used to cue downrange sensors or shooters."
His claim about "discrimination," which refers to an interceptor's ability to distinguish between a real warhead and a decoy, is a more hotly debated issue.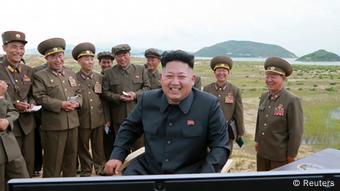 North Korean leader Kim Jong Un
THAAD interceptors have a perfect test record, according to Chris Johnson, a spokesman for the Missile Defense Agency, a department within the Pentagon. "The system has successfully conducted 13 of 13 tests," he wrote in an email.
In an email, however, Postol cast doubt on such claims. "The tests are choreographed and do not simulate actual combat conditions," he wrote in a reference to the system's difficulties in distinguishing actual warheads from decoys.
Still, the Raytheon website further boasts that "from several hundred miles away" the high-powered radar can track a home run hit in a baseball game. (A home run ball typically travels in a high-arching trajectory for about 300-450 feet, or 90-140 meters).
Despite the advanced radar, the system's overall ability to actually intercept an incoming missile remains in question. Each THAAD battery comes equipped with four launchers and 24 interceptors. The interceptors don't carry any warhead but, rather, rely on kinetic energy - the destructive force unleashed by one high-speed projectile slamming into another.
The limited number of interceptors suggests that the system is, indeed, intended to defend against a small number of missiles that could be lobbed across the DMZ by North Korea. The two Koreas are still technically at war, having signed an armistice in the summer of 1953 that ended three years of combat without an actual peace treaty.
Multiple attempts
Tensions between the two sides have risen in recent months, primarily because of North Korea's missile and nuclear tests.
Albeit unsuccessfully, the North has tried - twice on Thursday and three times in the past two weeks - to launch Musudan intermediate range missiles that would be capable of striking US military bases in Guam, 2,128 miles away.
And it is expected that North Korea will continue trying, as supreme leader Kim Jong Un is reportedly desperate for a successful launch ahead of next week's Workers' Party congress. He will reportedly claim success for advancing the country's nuclear program, but also wants to boast of advancing its missile program.
Both Russia and China, the only country with any real leverage over North Korea, have supported recent UN Security Council resolutions condemning the North's tests, but both say a missile defense base in the South would only heighten tensions on the peninsula.
"Relevant countries shouldn't use Pyongyang's acts as a pretext to increase their military presence on the Korean Peninsula," Lavrov said in Beijing. "We believe the possible deployment of the THAAD anti-missile system won't resolve this problem."
Bunn, the Harvard professor, said that while the US has every right to protect its troops and allies, the Chinese have a legitimate security concern. He said broader security talks between the US and China could be helpful.
"I think there needs to be a more in-depth dialogue between the US and China," he said. "The US has tried, but China doesn't see the US as especially flexible. Neither Hillary Clinton nor Donald Trump are going to limit missile defense."
In an email he further explained what the US and China should discuss.
"There's a broad strategic conversation to be had," Bunn wrote. "How does each side see deterrence? What are their plans for future strategic forces and why? How can they build and operate their forces to minimize costs and risks?"