US Defense Secretary Jim Mattis told reporters on Sunday that Saudi Arabia promised to investigate fully the murder of Jamal Khashoggi in the Turkish Consulate in Istanbul.
"We discussed it ... the need of transparency, full and complete investigation. Full agreement from Foreign Minister Jubeir, no reservations at all," Mattis told reporters traveling with him on a flight from Manama to Prague, where he will mark the centenary of the founding of former Czechoslovakia.
There had been no formal meeting between the two men, but Mattis spoke with Saudi Foreign Minister Adel al-Jubeir at a dinner attended by all the ministers taking part in a security conference on the Gulf island nation of Bahrain.
"No reservations at all. He [Jubeir] said we need to know what happened and it was very collaborative, in agreement," Mattis said.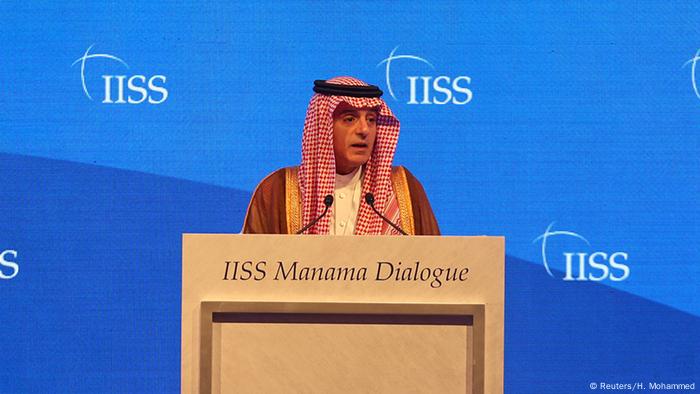 Saudi Foreign Minister Adel al-Jubeir
When he addressed the forum in Manama on Saturday, Mattis said that "the murder of Jamal Khashoggi in a diplomatic facility must concern us all greatly."
"Failure of any nation to adhere to international norms and the rule of law undermines regional stability at a time when it is needed most," the US Defense Secretary stressed.
Riyadh on Saturday dismissed Ankara's calls to extradite 18 Saudis being held over the murder.
Regional instability
Khashoggi, a Saudi national and critic of Riyadh's policies and of Saudi Crown Prince Mohammed bin Salman, was murdered inside his country's Istanbul consulate on October 2.
Read more: Saudi Arabia admits Jamal Khashoggi death was intentional
German Chancellor Angela Merkel has called for a block on weapon exports to Saudi Arabia until the killing is explained.
Read more: Saudi Arabia calls Jamal Khashoggi killing a 'grave mistake'
kw/jm (AP, AFP, Reuters)
Every evening at 1830 UTC, DW's editors send out a selection of the day's hard news and quality feature journalism. You can sign up to receive it directly here.