If the UK decides to exit the EU in what is commonly referred to as a "Brexit," it would take up to seven years for both sides to renegotiate their relationship, European Council President Donald Tusk told Berlin-based "Bild" newspaper.
Dissolving contractual ties between London and the bloc would take at least two years, Tusk added.
"Every single one of the 27 member states as well as the European parliament would have to approve the overall result. That would take at least five years, and I'm afraid, without any guarantee of success," said Tusk.
The council president's comments come after an online poll for the British newspaper "The Independent" published Friday showed the pro-Brexit voters leading by ten percentage points.
On June 23, registered voters in the UK will head to the polls in an in-or-out vote on the nation's future in the EU. But economists have warned of the consequences a Brexit would have not only on the bloc, but also on the UK.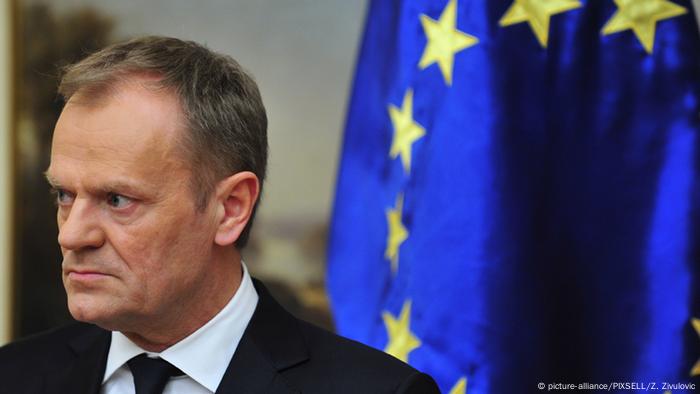 Tusk: Brexit would "change Europe forever, and it would be for the worse."
'Out is out'
Felix Hufeld, the president of Germany's financial watchdog Bafin, told domestic newspaper "Der Tagesspiegel" that German banks would be hit hard by a Brexit.
"The biggest banks would have the biggest problems," Hufeld said. "They have the most activities in - and with - London."
German Finance Minister Wolfgang Schäuble on Friday told Germany's "Der Spiegel" news magazine that the UK would no longer have access to the single market.
"In is in. Out is out," Schäuble said. "I hope and believe that the British will ultimately decide against a Brexit. The withdrawal of Britain would be a heavy loss for Europe."
ls/rc (AFP, Reuters)