The United Nations on Thursday described the civil conflict in Yemen as an "absurd" war in which all parties, including a military coalition led by Saudi Arabia, were showing a "complete disregard for human life."
"This absurd war ... has only resulted in the destruction of the country and the incommensurate suffering of its people, who are being punished as part of a futile military campaign by both sides," the UN humanitarian coordinator in Yemen, Jamie McGoldrick, said in a statement.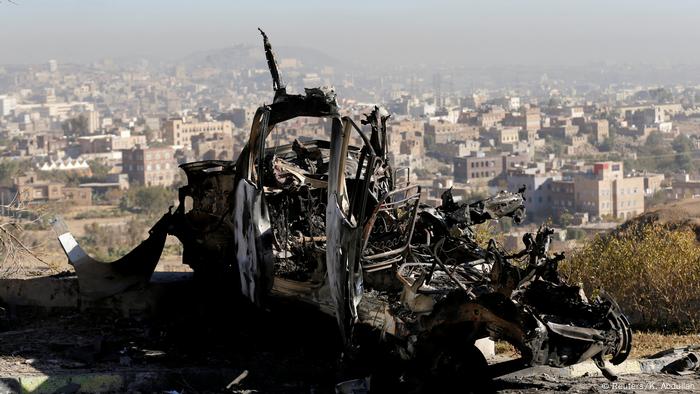 Saudi-led airstrikes often hit civilian areas
McGoldrick cited two air raids by the Saudi-led Arab coalition on December 26 that together claimed scores of civilian lives.
The first killed 54 civilians, including eight children, at a "crowded popular market" in Taez province, and the second in the Red Sea province of Hodeida killed 14 people from the same family, the statement said.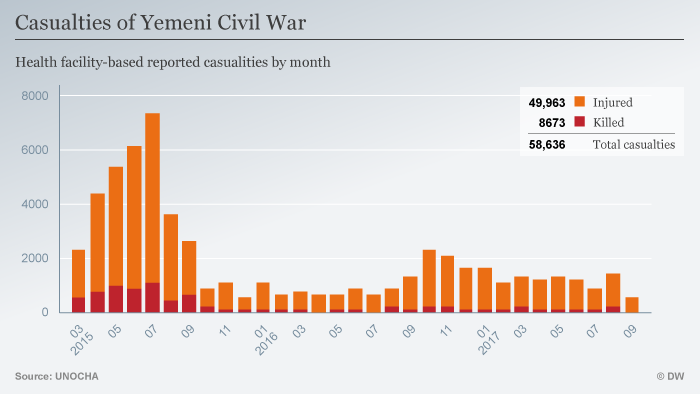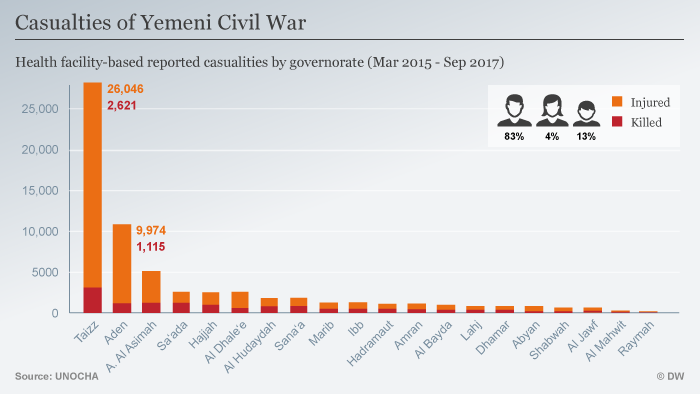 Read more:
- End Yemen's blockade, urge women Nobel laureates
- Yemen's Houthis are using missiles 'made in Iran,' US says
- UN asks for record $22.5 billion for humanitarian aid in 2018
Another 41 civilians had been killed in other fighting in Yemen in the past 10 days, according to the statement.
"I remind all parties to the conflict, including the Saudi-led coalition, of their obligations under International Humanitarian Law to spare civilians and civilian infrastructure and to always distinguish between civilian and military objects," McGoldrick said.
He said that the conflict in Yemen had no military solution and that negotiations were necessary to resolve it.
Devastating conflict
The war in Yemen broke out in 2015 after Shiite Houthi rebels, with support from forces loyal to Yemen's former president, the late Ali Abdullah Saleh, took over the capital, Sanaa, and much of the rest of the country. They are opposed by supporters of President Abed Rabbo Mansour Hadi, whose power base is in the southern port city of Aden.
The Arab coalition began flying airstrikes in the country in March 2015 in a bid to restore Hadi's government and prevent what Saudi Arabia sees as a proxy bid by Iran to gain a foothold on the Arabian Peninsula. It stepped up its air campaign after December 19, when Saudi air defenses intercepted a ballistic missile fired at the Saudi capital, Riyadh, by the Houthi rebels.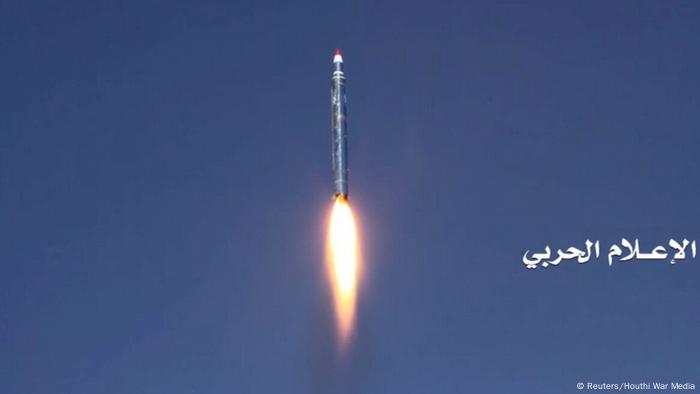 The conflict has escalated further since the Houthis fired their missile at Saudi Arabia
The Saudi military intervention, which has included seemingly indiscriminate bombings of civilian areas, has met with widespread international condemnation.
By August 2016, at least 10,000 lives had been claimed by the Yemeni conflict, according to UN figures. The world body has not issued any current estimates.
The UN says the country is now in the grip the of the world's worst humanitarian crisis, with about 8 million people threatened by imminent starvation. Yemen has also been afflicted by a cholera epidemic that has infected 1 million people.
Even before the war, Yemen was one of the Arab world's poorest countries.
tj/rt (AFP, Reuters)