The Nobel Women's Initiative, an Ottawa-based group, on Monday demanded that Saudi Arabia and its allies end their humanitarian blockade on war-torn Yemen, the Arab world's poorest country.
Their call coincided with a first food shipment arrival in the Houthi rebel-held Red Sea port of Saleef on Monday, after medical supply flights into Sanaa over the weekend, but UN officials warned that civilian needs remained immense.
The coalition tightened its blockade on Yemeni ports and airports on November 6 when a missile attributed to the rebels was intercepted near Riyadh airport. Last week, Saudi Arabia's UN mission said it would respond to international pleas.
In their Monday appeal, the women laureates said that "vulnerable and innocent civilians" were being denied access to food, fuel and medical supplies, aggravating what the United Nations had called the "worst humanitarian crisis to date."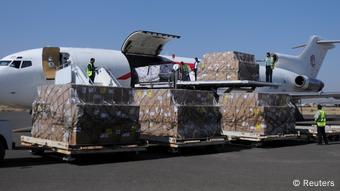 Weekend deliveries to Sanaa, but much more is needed
The six former Nobel laureates behind the appeal were Mairead Maguire of Northern Ireland, Rigoberta Menchú Tum of Guatemala, Jody Williams of the United States, Shirin Ebadi of Iran, Tawakkol Karman of Yemen, and Leymah Gbowee of Liberia.
They condemned violations and crimes perpetrated on civilians by "all parties in the current conflict," explicitly including Iran — thought to support the Houthi rebels.
The blockade was denying "live-saving" humanitarian assistance to more than 20 million people, the initiative said, including "at least 7 million — mostly children and women — close to famine.
The laureates called on the international community, specifically the UN Security Council, to "take urgent action to protect civilians, and bring all perpetrators to international justice."
On Sunday, the regional head of the child agency UNICEF, Geert Cappelaere, said Yemeni children afflicted by preventable diseases were dying at a rate of one every 10 minutes.
Weekend deliveries of vaccines against diphtheria, meningitis, whopping cough, pneumonia and tuberculosis must not be a "one-off," said Cappelaere.
"The absence of a political solution to the Yemeni crisis is deplorable," he said.
Yemen's three-year-long war, which has left 27 million people facing food insecurity, is widely seen as the product of the rivalry between regional powerhouses Saudi Arabia and Iran that has also fueled conflicts elsewhere, including Syria.
For nutrition, Yemenis are highly dependent on imported wheat. Aid groups warn that humanitarian deliveries cover only a small part of what is required.
ipj/msh (AFP, dpa, AP)