UN Secretary General Ban Ki-moon said the present migration crisis in Europe has grown from "a shameful symbol of international divisions" that was the ongoing Syrian war.
"History's judgment will be harsh," he told a UN meeting on Tuesday.
According to a UN spokesman, Stephane Dujarric, Ban stressed the large majority of those arriving in Europe were refugees fleeing war and violence and had the right to seek asylum "without any form of discrimination." The UN chief urged European leaders to stand against xenophobia, discrimination and violence towards refugees and migrants, Dujarric said.
Meanwhile, the UN High Commissioner for Refugees, Antonio Guterres, told a news conference in Paris that Europe's "deeply dysfunctional" asylum system and lack of organization had led to the current refugee crisis on its soil.
"To me it is ... clear that if Europe would be properly organized, it would be a manageable crisis," he said. "We're talking about 4,000 or 5,000 people per day in a union that has 508 million people. We had until now 300,000 that crossed the Mediterranean, which is less than one per 1,000 of the European population.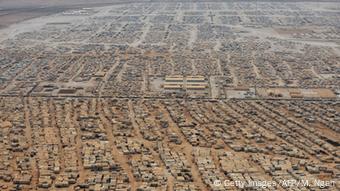 After years of civil war with no end in sight, many Syrian refugees are taking their chances to reach Europe
Germany arrivals
Germany is expecting to receive asylum applications from 800,000 people this year. Vice Chancellor Sigmar Gabriel said late Monday that Germany could handle taking in half a million people who were applying for asylum per year "for several years."
Following a meeting on Tuesday in Berlin, German Chancellor Angela Merkel and Swedish Prime Minister Stefan Löfven called for a coordinated and mandatory system for the redistribution of asylum seekers within the EU. Under current rules, people seeking refugee or asylum status must apply for it in the first EU country they enter. In practice, however, this procedure has been scuttled as thousands of people make their way from border countries like Greece, to seek refuge in wealthier nations such as Germany.
Greece, Macedonia, Serbia
In Greece, coast guard officials on Tuesday reported having picked up almost 500 migrants in 11 search and rescue missions in the eastern Aegean Sea in a 24-hour period. They were near the island of Lesbos, where some 15,000 migrants wait in desperate conditions for ferry transport to the Greek mainland.
Hundreds of migrants were crossing the frontier between Greece and Macedonia as they attempted to make their way north through the Balkans. A photographer for news agency AFP reported seeing people cross the border several dozen at a time under the eye of Macedonian police, before heading catching trains to Serbia, then Hungary and the rest of the EU. Tensions had been reported at the border between migrants and police on Monday after some became frustrated with long waits to carry on their journeys.
Break-out in Hungary
Late Tuesday a few hundred migrants, including families with children, broke through a police cordon at a registration camp at Röszke, on Hungary's border with Serbia. A group of up to 150 people was walking along railroad tracks with police following, but not blocking them. Hours earlier, Hungarian police had returned another group of migrants to a processing center after they too had broken out and began to walk to Budapest.
Migrants and refugees who entered Hungary from Serbia Tuesday were bussed to registration centers and despite efforts by Hungary's government - including a fence - to deter people from entering through its southern border, a steady stream was seen approaching the country. A scuffle broke out earlier in the day in which one man was injured when anxious migrants who were frustrated at being trapped behind a police line began pushing, so the police pushed back.
The UN refugee agency expressed concerns about the lack of proper reception facilities there.
"The border police are not trained to deal with the refugees," Babar Baloch told The Associated Press, adding that women and children were being forced to stay out in the open as temperatures began to drop.
Those who reached Keleti station in the capital Budapest were being allowed to board trains for Austria and Germany, in many cases in certain carriages separate from other passengers. Since the start of this year about 160,000 refugees have crossed into Hungary from Serbia.
Poland pledge
Officials from Poland have pledged to take in 2,000 refugees. Polish Prime Minister Ewa Kopacz said Tuesday the nation was capable of taking in more than that number, but added that Poland must be able to verify that those it took in were refugees, fleeing for their lives, who were ready to make a new start in Poland and had no hostile feelings toward the country.
To Denmark, Sweden
Police in Denmark have reported the arrival of more than 1,300 migrants and refugees who had arrived via Germany since Sunday. Danish police on Tuesday said they had sent back a first group of refugees to Germany, news agency dpa reports.
"This first group was a score of people. More will follow after their cases are processed," dpa quoted a statement from police in southern Denmark as saying.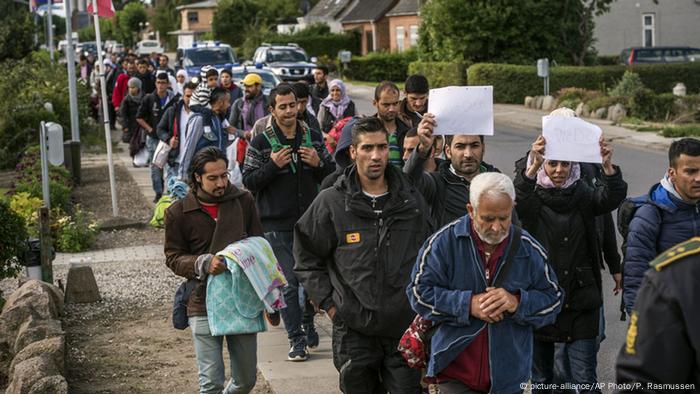 Migrants who had traveled to Denmark via Germany were making their way to Sweden on Monday
Most refugees who go to Denmark are hoping to travel further north to Sweden, which is known for having more generous asylum policies.
Swedish police have also reported detaining 14 people in the past week who they accuse of smuggling migrants across a bridge from Denmark into Sweden. It wasn't immediately clear whether the suspects were part of smuggling networks or individuals wanting to help migrants for humanitarian reasons.
se/jr (Reuters, AP, AFP, dpa)