Petro Poroshenko is a man in a hurry. The Ukrainian president has been working on a new approach to dealing with separatists in Donetsk and Luhansk for months. Details of this new approach were kept secret, with only a few Western partners being consulted in closed-door meetings before it was unveiled. Now things are moving at a rapid pace. On Thursday, representatives voted on the first of two bills that Poroshenko presented to parliament just the day before. The first bill is unofficially known as the "re-integration law" and seeks to restore Kyiv's sovereignty over the eastern Ukraine districts of Donetsk and Luhansk.
Similar benchmark to Crimea
The 15-page bill "on the particularities of national policies" states what many in Ukraine feel is a long overdue matter of fact, yet is something that Kyiv has thus far failed to put into legal writing: Namely, that Russia be labeled an aggressor and that the eastern Ukraine separatist provinces of Donetsk and Luhansk be declared "temporarily occupied." With that, Kyiv would apply a benchmark to the coal-rich Donbass region, where war broke out three years ago, similar to that which it applied to Crimea after it was annexed by Russia in 2014. Furthermore, Poroshenko has proposed that the peace agreements in eastern Ukraine and the Minsk I and Minsk II protocols (negotiated in September 2014 and February 2015 in the Belarusian capital for which they are named) be deemed urgent tasks, especially in regard to security.
Finally, Ukraine's controversial "Anti-Terror Operation" (ATO) is also to be renamed and transformed. Critics found the original terminology trivializing and obsolete for use in a military conflict involving heavy artillery. The word "war" nevertheless remains absent in the bill, which instead speaks of "stopping and defending against Russian armed aggression." The mission is now to be lead by the joint chiefs of Ukraine's military forces, rather than the SBU security agency that has been running it to date.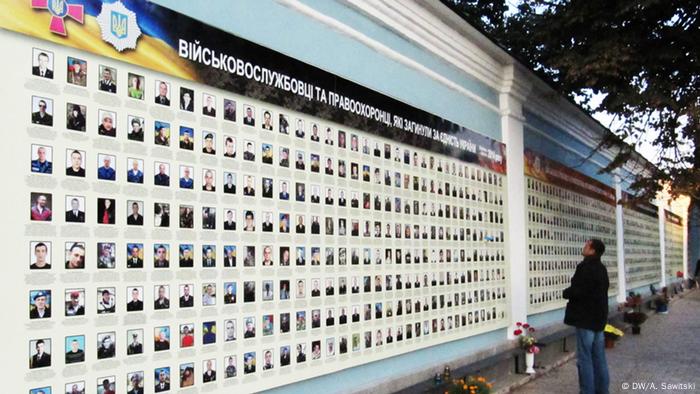 A wall in Ukraine memmorializes Ukraine's ATO participants
Withdrawal of fighting forces a prerequisite to autonomy
The much shorter second bill aims to establish "conditions for a peaceful solution" to a military conflict that, according to official accounts, has killed more than 10,000 people. In September 2014, Ukraine's parliament passed a law on the autonomy status of the Donbass. That law, which was never actually implemented, was to remain in place for three years and is soon set to expire. Parliament now intends to enact a one-year extension. Among the law's provisions: amnesty for separatists, language autonomy for Donetsk and Luhansk, and the right of citizens in the regions to provide input regarding appointments to regional judicial bodies as well as allowing them to form a "people's militia." Prerequisites for this were municipal elections to be provided for in a separate law, which has so far not been passed. Poroshenko's new bill also calls for the stationing of UN peacekeepers in the Donbass, though this is not among the prerequisites for autonomy.
On Thursday morning, Poroshenko added a quick amendment to the bill, apparently to speed up the voting process. The new passage stipulates that the autonomy law can only go into effect after all fighters from "illegally armed groups" have withdrawn from the Donbass. Weapons, which Kyiv insists come from Russia, are also to be removed.
Rejected by Moscow and Donetsk
Poroshenko's initiatives have sparked heated debate in Ukraine itself. The first bill garnered little support. The legal codification of the Minsk protocols, which some opposition politicians see as a serious threat to Kyiv, were sharply criticized. Nonetheless, the parliament's security committee approved the bill Thursday, paving the way for a vote. Committee members were unable to reach an agreement, however, on the second bill guaranteeing special status for the separatists. Some 300 opponents of Poroshenko's new bill protested in front of parliament as the body gathered. The opposition Batkivshchyna (Fatherland) party of former Prime Minister Yulia Tymoshenko as well as the Samopomich (Self Reliance) party have both announced that they intend to vote against the bill.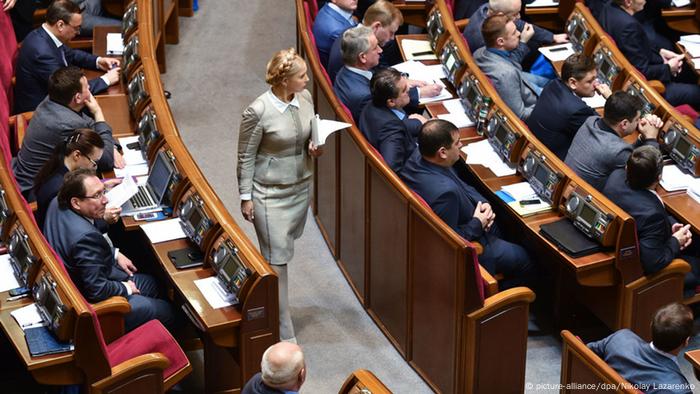 Former Prime Minister Tymoshenko has announced she intends to oppose Poroshenko's bill
Russia, too, which has consistently styled itself as a bystander since hostilities erupted in eastern Ukraine, voiced criticism over Poroshenko's proposal. Boris Gryzlov, Russia's representative to the Minsk contact group, said that the initiative contradicted the spirit of the Minsk protocols and impeded the path to peace. A spokesperson for the separatists voiced similar sentiments and warned of a renewed escalation in the conflict.
Cementing the status quo
Western reactions have been reserved. The German government, for instance, declined to comment on a bill labeling Russia an aggressor in eastern Ukraine. A government representative from Berlin told DW that the extension of special status for the region was a welcome and "important step toward the implementation of the Minsk agreements."
Gustav Gressel of the Brussels-based European Council on Foreign Relations think tank says he does not expect that Poroshenko's proposals will lead to a breakthrough in the conflict: "The bill won't change anything on the ground because Russia will not pull out, nor will it completely implement Minsk II." Gressel's colleague Balazs Jarabik, an expert on Eastern Europe at the Carnegie Endowment for International Peace, added: "It just cements the status quo."