It was a border transgression, quite literally. Although his Ukrainian citizenship was revoked, the prominent opposition politician and former Georgian president, Mikhail Saakashvili, crossed the Polish border at Shehyni on Sunday and returned to Ukraine.
The circumstances were astonishing, even for a country like Ukraine, whose recent history is rich in scurrilous political incidents. Initially, the 49-year-old former governor of Odessa oblast attempted to enter the country by train, accompanied by a crowd of journalists. The Ukrainian train was stopped in Poland and the politician was requested to disembark. Saakashvili then traveled by bus to another border crossing, where his well-muscled supporters literally carried him over the border. The Ukrainian border guards appeared to be helpless.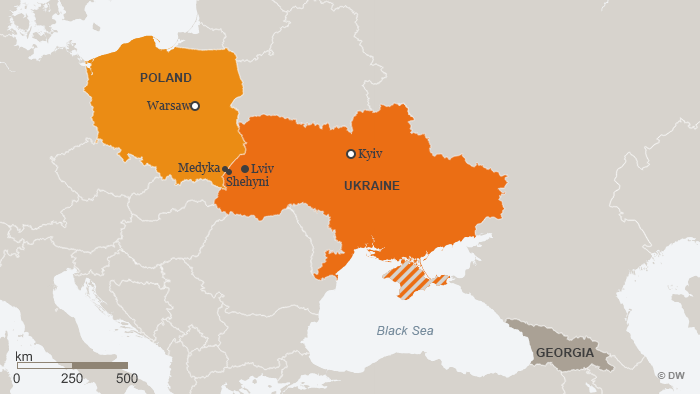 When friends become enemies
This incident is a provisional peak in the conflict between Saakashvili and President Petro Poroshenko. It shows how, as is so often the case in Ukrainian politics, friends can become enemies.
Poroshenko and Saakashvili know each other from their university years in Kyiv. During the 2004 "Orange Revolution" Saakashvili, as president of Georgia, supported the pro-Western Ukrainian election winner, Victor Yushchenko, who was a close associate of Poroshenko. Later, Saakashvili's successful reforms made his country into a role model for many Ukrainians.
After the change of power in Kyiv in 2014, Ukraine attempted an experiment and called on a number of politicians from Georgia to form the government. In 2015, Poroshenko named Saakashvili governor of the Black Sea region Odessa. But Kyiv's much-anticipated "miracle of Odessa" failed to materialize. Saakashvili stirred up Ukrainian politics, above all with verbal attacks. He initially brought serious corruption allegations against then-Prime Minister Arseniy Yatsenyuk and later against Poroshenko himself. In November 2016 Saakashvili handed in his resignation.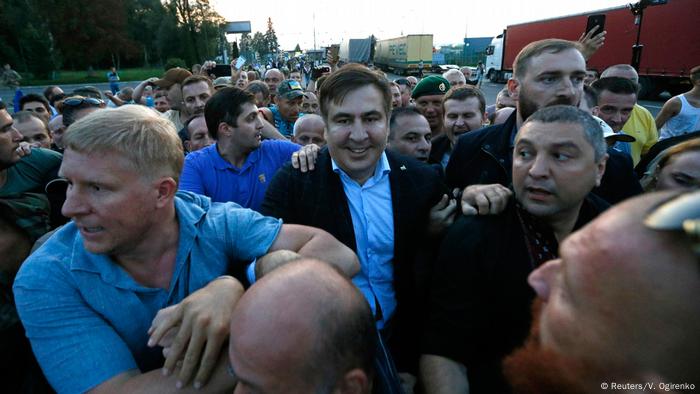 With Ukrainian border guards standing by helplessly, Saakashvili and supporters crossed the Polish border into Ukraine
Fear of extradition to Georgia
In July, Poroshenko surprisingly revoked Saakashvili's Ukrainian citizenship, which he himself had earlier conferred. The president justified this on the grounds that Saakashvili had not disclosed that there were criminal proceedings against him in Georgia. Saakashvili's Georgian citizenship had already been revoked in 2015. In Georgia there are currently four criminal proceedings against Saakashvili, including abuse of office. He could be facing 11 years in jail. He has denied all allegations, calling them politically motivated. Now, Ukraine could hand Saakashvili over to Georgia. Poroshenko suggested this on Monday in his first statement after Saakashvili's controversial return.
During his border crossing, Saakashvili was accompanied by a former prime minister and opposition politician, Yulia Tymoshenko. She is demanding early elections and evidently hopes she will be able to count on Saakashvili's help in the campaign against her archrival Poroshenko. Moreover, Saakashvili was received by the mayor of the western Ukrainian town of Lviv, Andriy Sadovyi, whose party "Self-Reliance" is also in opposition. And not least, Saakashvili wants to defend himself in court against his deprivation of citizenship.
Read also: Saakashvili plans march on Kyiv
An alliance against Poroshenko?
Now speculation is rife in Ukraine about a possible alliance against Poroshenko, which other opposition politicians and parties could join. Tymoshenko, who is just behind Poroshenko is the polls, has suggested such an alliance.
But it is difficult to say what the consequences of the illegal border crossing will be for Saakashvili. Poroshenko has promised there will be legal consequences for everyone involved. It is unclear whether Saakashvili will be able to mobilize supporters should he be allowed to stay in Ukraine.
In Lviv he announced he would be going on an "auto tour" through Ukraine. His party, "Movement of New Forces," has, until now, been in a low one-digit range in the polls. "Saakashvili used to be much more popular; his recent polling results have fallen dramatically," says sociologist Irina Bekeshkina.
The head of the "Democratic Initiatives" foundation, Bekeshkina believes that having his citizenship revoked has been a gift for Saakashvili's image cultivation. She thinks that Saakashvili could theoretically be a driving force to help other parties. Nevertheless, Bekeshkina points out that Saakashvili is most interested in his own party.
Severe image loss
Critics are accusing both Poroshenko and Saakashvili of playing dangerous power games, which are putting Ukraine's already fragile domestic political situation at risk. Many, mostly in the social media, appeared shocked and disgusted by the pictures from the border - especially considering the ongoing trench warfare in eastern Ukraine.
"Saakashvili is fighting for his comeback," says DW political expert Oleksiy Haran of the Kyiv-Mohyla Academy. "But he is fighting for himself and not for Ukraine." According to Haran, the incident at the border was destabilizing to the degree that one could consider it a provocation. The border proved to be completely unguarded against the sudden rush of pseudopatriots, resulting in a "devastating" image loss.
So far the EU has reacted cautiously to the events around Saakashvili's return. "These are internal issues in Ukraine. Few western politicians want to get involved in these quarrels," Gustav Gressel, of the Brussels think tank European Council on Foreign Relations, told DW. The expert called the legal proceedings in Georgia "purely political" and also criticized Saakashvili's expatriation from Ukraine. "European countries don't do these things," said Gressel. "In the past this used to be done solely by communist regimes in Eastern Europe as a way of getting rid of dissidents."