The UK Parliament's Intelligence and Security Committee published a report on Thursday accusing British spy agencies of involvement in the US' "extraordinary renditions" in the "War on Terror."
In the wake of the September 11, 2001 attacks in the US, the US and some of its allies captured suspected militants and transferred them to third countries, where they were often subject to inhumane conditions, including torture.
The UK Committee found that British spy agencies in three cases "made, or offered to make, a financial contribution to others to conduct a rendition operation." In 28 other cases, intelligence agencies suggested or agreed to rendition operations.
"In our view the UK took tolerated actions, and took others, that we regard as inexcusable," the Committee said in its report. "That being said, we have found no 'smoking gun' to indicate that the Agencies deliberately overlooked reports of mistreatment and rendition by the US as a matter of institutional policy."
'No attempt to identify risks'
The report follows a 2013 inquiry that found British intelligence agencies had been involved in the US Central Intelligence Agency's (CIA) "extraordinary renditions," but discovered no evidence that intelligence officers had engaged in mistreatment.
However, Thursday's report indicates how British spies went further and at times supported illegal transfers, even when they knew of the likelihood of torture.
"That the US, and others, were mistreating detainees is beyond doubt, as is the fact that (British) agencies … were aware of this at an early point," the report said. "The same is true of rendition: there was no attempt to identify the risks involved and formulate the UK's response."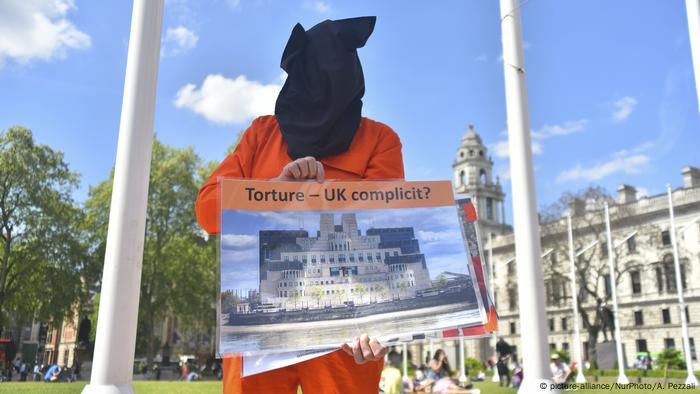 Rights groups in the UK have called on the government to provide more details of the extent to which British spies engaged with "extraordinary renditions"
Rights groups want more
For years, human rights groups have demanded answers over the UK's involvement in illegal transfer, torture and inhumane treatment.
In May, the UK admitted to helping Muammar Gadhafi's regime kidnap a Libyan national from Thailand. But rights groups want judicial oversight over any further inquiries in order to ensure independence and transparency.
"The wider issue is that we've still never had the judicial inquiry into the UK's role in torture carried out by its partners, including the CIA's extensive program of rendition and illegal detention, that we were promised under David Cameron's government," said Kate Allen, Amnesty International's UK director.
ls/jm (Reuters, AFP, AP)
Each evening at 1830 UTC, DW's editors send out a selection of the day's hard news and quality feature journalism. You can sign up to receive it directly here.