The German government is yet to respond to Macedonia's apology to Khalid al-Masri, the German-Lebanese man who was wrongfully seized and then abused as part of the US Central Intelligence Agency's rendition program 14 years ago.
Al-Masri, a German citizen living at the time in the southern town of Neu-Ulm, was arrested on the border between Serbia and Macedonia on December 31, 2003, because — as the US Senate found in 2014 — he shared a name with an al-Qaida suspect.
The human rights group Open Society Foundations reported this week that Macedonian Foreign Minister Nikola Dimitrov wrote to al-Masri to express "sincere apologies and unreserved regrets" for his country's "improper conduct." Macedonia's government later confirmed the apology to the Associated Press.
But the German government has yet to comment on the case, even though the then-German chief-of-staff (and now President) Frank-Walter Steinmeier came under criticism for apparently suppressing information on the case.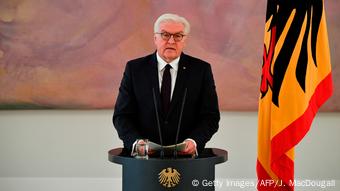 Steinmeier, now president, was accused of supressing information in the al-Masri case
In 2005, Steinmeier (by that time foreign minister) dismissed accusations that the government had reacted too slowly, and denied suggestions that the German security authorities had colluded with the CIA or passed on any information about al-Masri. But in 2006 he was forced to deny new claims that he had known much earlier about al-Masri's abduction, which led to more accusations that he had suppressed information before the German parliament's inquiry into secret service activity.
It is known that the German government gave the US overfly permission for its rendition program, and that Germany's CIA equivalent, the BND, cooperated closely with US intelligence following the 9/11 terrorist attacks. The German government did not want to comment to DW on Friday, other than to say that the issue had been dealt with in parliamentary hearings at the time.
Read more: German NGO seeks arrest warrant for Trump's CIA director
Inside the Salt Pit
Macedonian security forces held al-Masri in a Skopje hotel for three weeks before he was handed over to US agents, who flew him to a secret prison in Kabul, Afghanistan, in late January 2004.
A 2016 report, signed by CIA Inspector General John Helgerson, shows that the German man spent four months being interrogated, humiliated and mistreated in an Afghanistan detention center known as the Salt Pit. He was released in Albania in May 2004 and "clandestinely returned to Germany," as the CIA report put it.
Helgerson concluded that al-Masri was not physically abused during his detention, but al-Masri said he was shackled, beaten, injected with drugs, force-fed, and sodomized — a claim that the European Court of Human Rights (ECHR) agreed with in a ruling in 2012.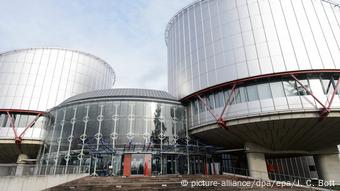 The ECHR ruled in al-Masri's favor in 2012
Even if the CIA's version is true, the agency's own psychologists' reports on al-Masri show the degree of distress he went through. Al-Masri was kept for two months even after the CIA had concluded there was no justification for keeping him detained, a period during which a psychologist found he was "desperate and depressed and prone to thoughts of suicide."
The ECHR's ruling in 2012 found Macedonia in breach of the European Convention of Human Rights and awarded compensation of €60,000 ($73,500), which the government subsequently paid.
Jamil Dakwar, director of the American Civil Liberties Union's (ACLU) human rights program, says the German government still owes al-Masri a full investigation into "the role that German investigators played in facilitating, or turning a blind eye to Mr. al-Masri's torture. The onus is on the German government to prove that they protected their national from enforced disappearance." In 2007, a Munich court filed arrest warrants against 13 CIA agents allegedly involved in the abduction, but that investigation was dropped, "based on what appeared to be US pressure," according to Dakwar.
Read more: Could US agents be tried for Afghanistan war crimes?
Late apologies, or none at all
James Goldston, executive director of the Open Society Justice Initiative, who represented al-Masri at the ECHR, cautiously welcomed Macedonia's late apology this week. "This certainly goes further than the United States, which continues to refuse to hold anyone at the CIA responsible for this appalling case, or to acknowledge the wrong done to al-Masri, let alone to provide compensation," he said in a statement. "However, the conduct at issue was illegal, not merely 'improper,' and thus requires a thorough investigation. The FYROM (Editor's note: Former Yugoslav Republic of Macedonia is the country's UN designation) has yet to open a formal criminal inquiry into what happened, or to hold anyone to account."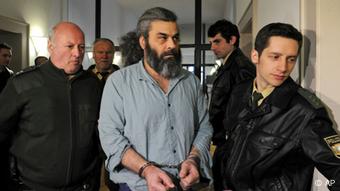 Al-Masri was imprisoned for assault in 2010
"While we welcome Macedonia's official apology, it is only a first step in revealing the whole truth about al-Masri's illegal kidnapping and torture," said Dakwar. "Al-Masri deserves justice and nothing less than full and transparent investigation into those responsible for overseeing and implementing the CIA torture and rendition program. He also deserves an official apology and compensation to help him and his family to rebuild their lives."
The ACLU is representing al-Masri in a case against the US government which is now being considered by the Inter-American Commission on Human Rights. The ACLU also represented him in a lawsuit in a US federal court — which was dismissed on the grounds that hearing the case would reveal state secrets.
Following his release, al-Masri has been convicted of assault or verbal abuse in Germany on several occasions — most recently in 2013, when he was sentenced to seven months for hitting a prison guard while serving another sentence in a jail in Kempten, Bavaria. Psychological assessors declared during his trial that his aggressive behavior was typical of torture victims.
"The German authorities also appear to have failed to provide full support to Khalid al-Masri as a victim of torture," said Dakwar. "Mr. al-Masri is working hard to rebuild his life, and to protect his human dignity, and will continue to pursue accountability, and that's why the ACLU stands with him in his efforts to seek the truth."