Papua New Guinea and Australia will discuss the 900 detainees - many of whom fled conflict in the Middle East and elsewhere in Asia - who are detained in a center slated for closure. Australian Prime Minister Malcolm Turnbull said that under no circumstance, however, would the refugees come to the mainland.
"We cannot be misty-eyed about this," Turnbull said on Thursday.
Australia intercepts refugees at sea and holds them in detention centers run by the private company Broadspectrum on Papua New Guinea's Manus island and on the Pacific island nation of Nauru. Those whose applications are deemed "legitimate" are resettled in Papua New Guinea or Cambodia - but never in Australia.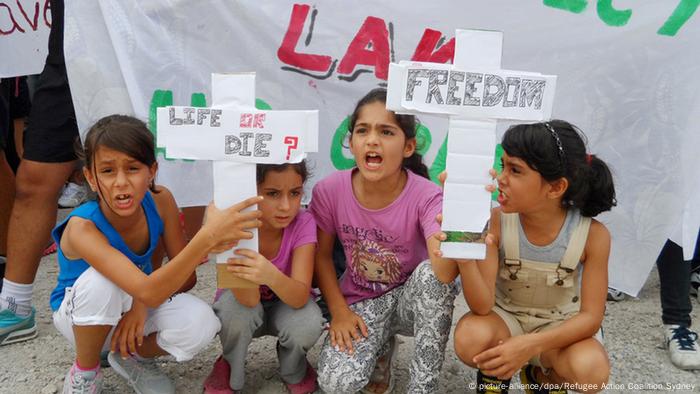 Children detained at the Nauru center
'Dangerous and unsustainable'
On Wednesday, Papua New Guinea announced plans to close its center after the Supreme Court ruled it unconstitutional and illegal. Papua New Guinea hasn't offered a timeframe.
Charles Lepani, Papua New Guinea's high commissioner to Australia, said responsibility for the men rested with Australia. Lepani said Papua New Guinea had never intended to make the Manus center a long-term holding facility, and accused Australia of allowing things to "drag on."
"This was the original proposal, to process these people, not have them detained for such a lengthy place of time," Lepani told reporters. "This is Australia's responsibility."
Prime Minister Turnbull said Papua New Guinea's decision would have no effect. "They will not come to Australia," Turnbull said of the refugees on Thursday.
Though criticized by the UN, Australia's policy has proved popular. Short-term Prime Minister Tony Abbott won a landslide election in 2013 on the back of his "Stop the Boats" slogan. At least 1,200 people drowned trying to reach Australia between 2008 and 2013.
The militarized approach halted arrivals, but led to complaints about prison conditions. On Wednesday, a man set himself on fire as UN officials visited the detention center on Nauru, where systematic child abuse has been reported.
Until recently, Australia was also holding foreign children in detention centers on its mainland. The government reunited at least one baby with her parents at the Nauru detention center. Australia's high court has ruled that children born in the country to noncitizens are eligible for deportation.
Australian Human Rights Commissioner Gillian Triggs said Papua New Guinea could bring the matter to the International Court of Justice if officials wished. "The conditions on both Manus and Nauru are dangerous and unsustainable for legal and ethical reasons," Triggs said, contradicting rosier reports by Australian officials.
Media report that Australia's government has tried to negotiate new offshoring deals with Malaysia, Indonesia and the Philippines.
mkg/kms (Reuters, AFP)