Papua New Guinea's highest court on Tuesday said the practice of detaining asylum seekers on Manus Island was illegal and must stop.
There are currently 850 men being held at the island's detention center as part of Australia's controversial offshore processing policy. Under the law, asylum seekers attempting to reach Australia's shores by boat are sent to remote centers on Manus Island and the tiny Pacific nation of Nauru. Those found to be genuine refugees are then resettled in Papua New Guinea.
In its 34-page ruling, the court said the Manus detention center violated the right to personal liberty enshrined in Papua New Guinea's constitution.
"Treating those required to remain in the relocation center as prisoners irrespective of their circumstances or their status, save only as asylum seekers, is to offend against their rights and freedoms as guaranteed by the various conventions on human rights," the court wrote.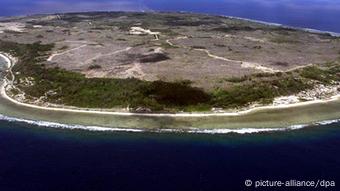 Australia pays PNG and the Pacific nation of Nauru to hold asylum seekers in detention centers
Policy in jeopardy?
The court also ordered the Australian and Papua New Guinean governments to "take all steps necessary" to end the continued detention of asylum seekers on Manus.
Attorney Loani Henao, who lodged the court action, said the decision means the center must be shut down immediately and the men set free.
"They were in jail against their own will for no reason," Henao told the Associated Press by telephone.
Australian Immigration Minister Peter Dutton said the court's ruling would not change the country's policy of offshore processing, designed to stop people-smuggling boats.
"It does not alter Australia's border protection policies - they remain unchanged," Dutton said.
"Those in the Manus Island Regional Processing Centre found to be refugees are able to resettle in Papua New Guinea. Those found not to be refugees should return to their country of origin."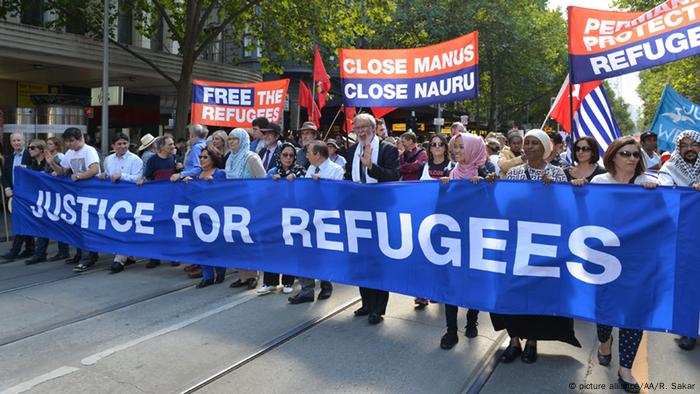 Thousands protest in a march against the policy of offshore processing in Melbourne
Rights groups hail decision
Human rights groups, which have fiercely criticized offshore detention, welcomed Tuesday's court ruling and called for the Manus center to be shut down.
"For these men, their only 'mistake' was to try to seek sanctuary in Australia - that doesn't deserve years in limbo locked up in a remote island prison," Elaine Pearson, director of Human Rights Watch in Australia, said.
According to the Australian Broadcasting Corporation, the center operators and Papua New Guinea's immigration authorities have recently been trying to move refugees out of detention and into a so-called transit center, allowing them the chance to leave detention during the day.
A similar policy has been adopted in Nauru where the government last year said the processing facility had been converted into an "open center," giving its inhabitants freedom of movement.
nm/kms (AP, AFP, Reuters)