Turkish Foreign Minister Mevlut Cavusoglu accused Germany of double standards on Friday after a southern German town did not allow its justice minister to attend a meeting and give a campaign speech. Cavusoglu said Ankara would not be "intimidated."
Justice Minister Bekir Bozdag was scheduled on Thursday to speak to supporters of Turkish President Recep Tayyip Erdogan to rally support behind an April referendum to dramatically expand the powers of the presidency. Germany's Foreign Ministry said on Friday it was not involved in the decision to cancel the speech, adding that it was reached by local authorities.
A bomb threat was phoned in to the Gaggenau town hall on Friday after the canceled speech. Police did not find any explosives in their search of the building.
Cavusoglu criticized officials in Gaggenau who denied permission on technical grounds, suggesting that the decision was a "systematic practice of the German deep state" to weaken Turkey. The deep state is a reference usually associated with Turkey to describe a shadowy network within the military and bureaucracy that acts as a state within the state.
"They don't want Turkey to campaign because they are working for a 'No' vote [in the referendum], because they want to undermine a powerful Turkey," Cavusoglu told reporters. Germany is home to some 3 million people of Turkish origin, about half of whom can cast a ballot in April.
Speaking on Friday, Bozdag described the cancellation "in the truest sense of the word a fascist approach."
Cavusoglu said Germany "gives lectures on democracy," but then implements double standards on freedom of speech and assembly. He accused Germany of allowing the outlawed Kurdistan Workers' Party (PKK) to organize in Germany, referencing a Kurdish rally last year in Cologne.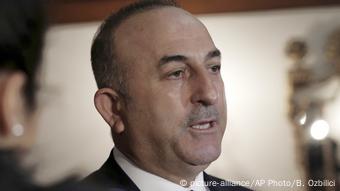 Cavusoglu said Germany doesn't practice what it preaches when it comes to freedom of speech
But he said nearly a week before the Kurdish rally, the elected president of Turkey was blocked from giving a live video speech at an anti-coup rally of government supporters.
"Giving permission to terrorists and not giving permission to our president and ministers shows Europe's double standards," Cavusoglu said.
"If you want to continue relations, you [Germany] need to learn how to behave towards us. We will respond without hesitation," he said without providing details on what actions Ankara might take.
Cavusoglu's comments reflect a broader deterioration in relations between Ankara and Berlin, impacted most recently by the arrest on Monday of Deniz Yucel, the Turkish-German "Die Welt" correspondent. He faces up to several years in prison if convicted on "terrorism" charges.
Turkey responded to the withdrawal of permission for Bozdag to speak by canceling a meeting with Germany's justice minister, in which Yucel's case was to be a prominent issue. On Thursday, Turkey summoned Germany's ambassador to Ankara to the foreign ministry.
"German officials say that when Turkish ministers come to Germany they must speak with their counterparts. If you want to meet with Turkish ministers, you will request the meeting like a man and we will gladly meet with you. But with such force and demands we will not meet," Cavusoglu said.
The city of Cologne also blocked an event where Turkish Economy Minister Nihat Zeybecki was to campaign on Sunday, citing security concerns.
Relations between Berlin and Ankara soured last year after the German parliament passed a resolution recognizing the Armenian genocide. Ties took another downward turn in the wake of the failed July coup attempt. Ankara accused Germany of failing to condemn the putschists.
Erdogan has used post-coup emergency powers to carry out a massive purge targeting tens of thousands of people, journalists and the Kurdish opposition, drawing criticism from Europe.
The opposition in Turkey has warned if April's referendum passes Turkey will turn into a full-blown dictatorship.