Following initial reports on Tuesday that the identity of the warplane was unknown, Turkish presidential sources said shortly after the incident that the aircraft was Russian.
"A Russian Su-24 plane was downed under the rules of engagement because it violated the Turkish air space despite the warnings," Turkey's presidency said.
The Turkish military said in a statement that two F-16s warned an unidentified aircraft 10 times within five minutes before firing.
A senior Turkish official also told Reuters news agency that the downing of the plane was "not an action against any specific country but a move to defend Turkey's sovereign territory within the rules of engagement."
Moscow: Jet was over Syria
Russia's defense ministry initially denied the claims Turkey shot down its jet, saying that the warplane had been on a bombing mission in Syria and crashed after it came under artillery fire from the ground.
"We are looking into the circumstances of the crash of the Russian jet. The Ministry of Defense would like to stress that the plane was over the Syrian territory throughout the flight," Moscow said in a statement.
Russian President Vladimir Putin later said the warplane was shot down by a Turkish jet while flying in Syrian airspace.
"Our plane was shot down over the territory of Syria by an air-to-air missile from a Turkish F-16," Putin said. "Our pilots and our plane did not in any way threaten Turkey."
Putin called the attack a "stab in the back committed by accomplices of terrorists," in an apparent reference to Turkey's backing of Syrian rebels and late crackdown on "Islamic State" militants entering Syria from Turkey.
"Today's tragic event will have serious consequences for Russian-Turkish relations," Putin said.
In response, Russian Foreign Minister Sergei Lavrov said he would cancel a visit to Ankara scheduled for Wednesday and warned Russians against travelling to Turkey due to the threat of terrorism.
Pilots seized by Turkmen
Video footage released by private Turkish broadcaster Haberturk TV on Tuesday showed the jet plummeting in flames into a woodland area - known to Turks as "Turkmen Mountain" - with a long plume of smoke behind it.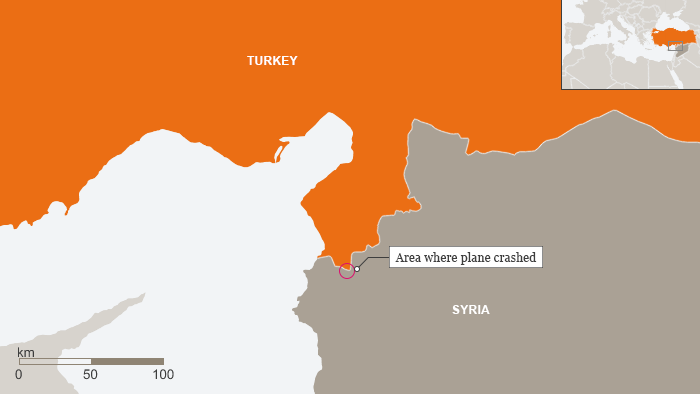 In separate footage published by Turkish state media Anadolu Agency, two pilots were seen parachuting out of the aircraft shortly before it crashed.
Broadcaster CNN Turk reported that Syrian rebels had captured one of the pilots near the Syrian border. Jahed Ahmad, spokesman of the 10th Brigade rebels, told AP news agency that the pilot was dead upon landing, after members of his group opened fire.
Turkish Prime Minister Ahmet Davutoglu's office said in a statement Davutoglu would start "initiatives" within NATO and the United Nations (UN).
NATO ambassadors were due to meet in a special session on Tuesday evening to discuss the downing of the Russian fighter jet.
Call for Security Council meeting
Earlier this week, Turkey called for a UN Security Council meeting to discuss attacks on Turkmen. Traditionally, Ankara has supported Syrian Turkmen, who are ethnically and linguistically close to Turks.
In recent days Russian and Syrian air forces have been attacking Turkmen rebels and other groups including the al-Qaeda affiliated al-Nusra Front in the area where the plane went down.
Separately on Tuesday, rebels in the Turkmen Mountain area shot at a Russian helicopter, forcing it to make an emergency landing in regime held territory.
The downing of the plane came just a month after a similar incident, in which Turkish jets shot down an unidentified drone that had also violated Turkey's airspace.
In October, Ankara and NATO warned Russia after one of its jets violated Turkish air space and harassed F-16 aircraft.
Turkey changed its rules of engagement to fire on any jet entering its airspace after Syria downed one of its planes a few years ago. The air force regularly patrols the border to protect its airspace.
ksb/kms (Reuters, AP)