Content has been heavily revised in textbooks published for Turkey's 2017-18 academic year. Working for a Turkish pedagogics association with support from Germany's Friedrich Naumann Foundation, the researchers Canan Aratemur Cimen and Sezen Bayhan examined the changes to the educational texts.
For their report, "Secularism and Gender Equality in Reformed Textbooks," the researchers compared the contents of 16 educational volumes covering social sciences, history and religion with the corresponding editions from 2016. Textbooks for the first, fifth and ninth grades had been altered.
In fifth-grade social sciences texts, for example, the pair found that there were fewer representations of women in the workforce. The textbooks issued in 2016, on the other hand, had featured female engineers and veterinarians in a chapter on different types of work. The new editions also lack historical examples of women in positions of power.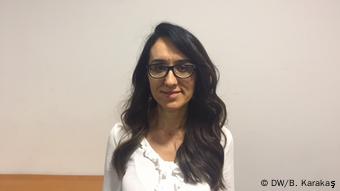 Bayhan believes the textbooks 'have been adapted to political Islam'
Bayhan told DW that she was most shocked by the return of the word "honor" to textbooks; the term, she said, has come back into vogue. "I think that the new curricula have been adapted to political Islam," Bayhan said. "History has been rewritten. And it is obvious that the government has a problem with women."
Aratemur is concerned about another change in the content of the books. She found that the new textbooks grant an especially powerful role to religion: Spirituality is presented as the key factor for social coexistence. The 2016 textbooks had not so blatantly emphasized religion.
"Religion corresponds to human nature and satisfies man's need for faith," an example reads. "With its clear rules, religion regulates community life. In this respect, it enjoys a special status in the creation of a social system."
'A sacred task'
Religious martyrdom also has a prominent role in the new textbooks — and is used in reference to recent political events. "Many stories draw on the [1919-23] Turkish War of Independence or the failed coup attempt on July 15," Aratemur said, referring to the 2016 effort to depose President Recep Tayyip Erdogan.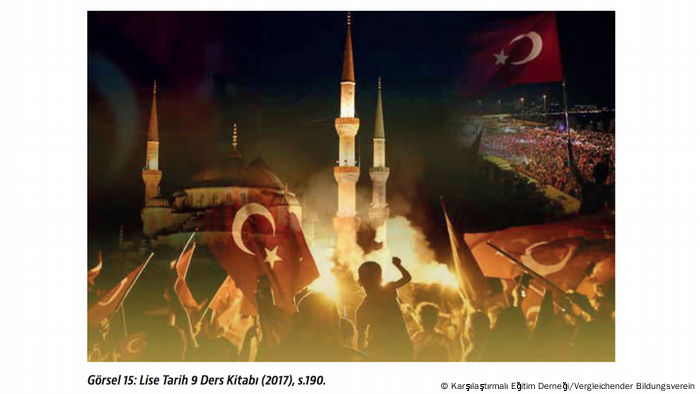 An except from a new ninth grade textbook illustrates its more religious and patriotic tone
The coup is being exploited to build a new image of a new nation and a new national identity. "From the Crusades to the Mongol invasion of Europe, it was a sacred task for our people to fight to the last drop of blood," a ninth-grade textbook reads. "But the attacks against our country did not only come from outside. It is of great importance that the heroism that went down in history on the night of July 15 be passed on to future generations."
Read more: What you need to know about Turkey'S DITIB mosque association
A secular education initiative has been established to fight the influence of the "ideological circulation" coming from the increasing number of Imam Hatip schools, where government-employed imams are trained.
"We should be up there competing with the world but with this school system, that is not possible," the activist Hülya Sen told DW.
The initiative came about because more and more schools were converted to Imam Hatip academies. Sen and other parents want to take action.
"We have problems because our children have to be integrated into the existing school system," she said. "It's a system that doesn't give children the freedom to think for themselves — and it gets worse every day."