Turkey is seeking to arrest two former aides to Saudi Crown Prince Mohammed bin Salman who were dismissed amid the fallout from the killing of Washington Post columnist Jamal Khashoggi.
Khashoggi, 59, was killed shortly after entering the Saudi consulate in Istanbul on October 2 to obtain paperwork for his upcoming marriage.
Turkey's Anadolu news agency said that a court had approved arrest warrants for former royal court adviser Saud al-Qahtani and former deputy intelligence chief Ahmed al-Assiri.
Officials are reported to believe that the men were in charge of the team that killed and dismembered Khashoggi at the Saudi consulate in Istanbul in October.
Saudi authorities said the agents who killed Khashoggi exceeded their authority. Istanbul's chief prosecutor's court application said there was "strong suspicion" the two aides were involved in planning the killing.
Turkey has been seeking to extradite 18 suspects, including 15 members of the alleged assassination squad.
The government said a trial in Turkey would provide transparency and accountability, and said Saudi authorities have not fully cooperated with the probe.
A senior Turkish official familiar with the investigation speaking on condition of anonymity said the arrest warrants reflect Turkey's view that Saudi Arabia won't hold the suspects accountable.
"The international community seems to doubt Saudi Arabia's commitment to prosecute this heinous crime," the official said, adding that by extraditing all suspects to Turkey, "Saudi authorities could address those concerns."
Multiple arrests
Saudi Arabia has detained 21 people and says it is seeking the death penalty for five of them. Initially, Saudi authorities had said Khashoggi, who had written articles critical of the crown prince's policies, had disappeared, after safely leaving the consulate.
Read more: Jamal Khashoggi killing reflects severe media restrictions in Arab world
Riyadh only acknowledged he had been killed after Turkish press reports based on intelligence leaks revealed extensive details of the operation.
US intelligence community assessments and experts said it's unlikely the killing could have happened without the crown prince's knowledge.
Meanwhile, two US senators who attended a briefing Tuesday by CIA director Gina Haspel on the killing of Khashoggi said they no longer had any doubt that Saudi Crown Prince Mohammed bin Salman was responsible for the dissident's murder.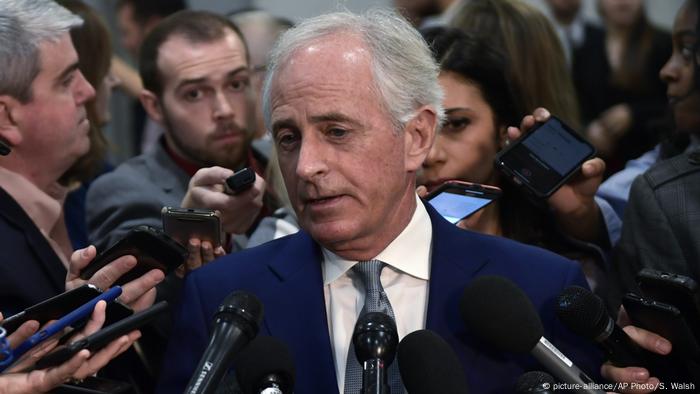 US Senator says no doubt Crown Prince was involved
The crown prince ordered and monitored the killing, Senator Bob Corker said. If he were in front of a jury, "he would have a unanimous verdict in about 30 minutes. Guilty. A guilty verdict."
Read more: Turkey using Jamal Khashoggi's killing as political leverage
Corker was joined by Senator Lindsey Graham, who had a scathing reaction after hearing from Haspel about the CIA's conclusions on the October 2 killing in the Saudi consulate in Istanbul.
Anyone who looked at the evidence would have to be "willfully blind" not to reach the conclusion that the killing was "orchestrated and organized by people under the command of MBS," as Salman is known, Graham said.
av/rc (dpa, AP, AFP)
Each evening at 1830 UTC, DW's editors send out a selection of the day's hard news and quality feature journalism. You can sign up to receive it directly here.