Environmental group Greenpeace has leaked 250 pages of Transatlantic Trade and Investment Partnership (TTIP) documents. They are available here.
"Details from the closed-doors negotiations that reached the public sounded like a nightmare - now we know that this could very soon become the reality," said Juergen Knirsch, a trade expert at Greenpeace. The European Commission - which is leading the negotiations on behalf of the EU - should "press the restart button" because the current deal is "beyond redemption," he added.
TTIP could cancel existing consumer protection measures and wouldn't even consider commitments from the Paris climate deal, Greenpeace said. European agriculture in particular would suffer.
"If America's position is going to find its way into the TTIP treaty, the precautionary principle in Europe will end with a single stroke," Knirsch said.
The European precautionary principle states that new laws can only be passed if they don't have any negative effects on the consumers and the environment. Such effects don't have to be proven scientifically - a reasonable suspicion is enough.
Greenpeace says that with TTIP, this could mean removing EU restrictions on genetically modified organisms: their potential danger hasn't become visible because only future long-term studies might record any effects.
Under the precautionary principle, EU countries have prohibited genetically modified food. With TTIP, companies like Monsanto could take this decision to court - and win, the environmental group fears.
Genetically modified food, hormone-treated meat and not yet approved conservation methods like "chlorinated chicken" could find their way onto European supermarket shelves, Greenpeace said.
Major concerns
Greenpeace is not the only environmental group that fears that TTIP could be bad news for the environment.
"We fear the treaty will result in more lax environmental protection standards, and will pave the way for methods that make it difficult to agree on good standards in the future," Karl Bär told DW. He works for the Munich Environmental Institute.
Representatives of industry and commerce, on the other hand, argue that the treaty will lead to more economic growth and employment. "TTIP is an important element to ensure economic prosperity and Europe's leading role in a global economy," said Felix Neugart, now leading the German Chamber of Industry and Commerce Abroad.
The conditions of the Transatlantic Trade and Investment Partnership (TTIP) have been under negotiation between the European Union and the United States since 2013. Talks are being held behind closed doors, with proposals made on the American side remaining top secret.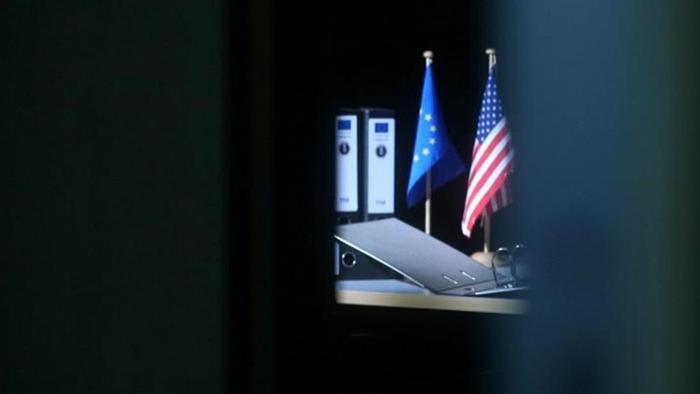 Lack of transparency is being criticized: TTIP negotiations have been taking place behind closed doors
Trash or food?
The declared objective of the treaty is to simplify standards as much as possible, through the means of so-called "regulatory cooperation," wrote the German Environmental Protection Agency in a position paper.
This presents considerable risks for environmental protection efforts in the EU: "Environmental standards could be reduced, and the environmental features of products might be at risk," the paper stated.
Environmental standards in the EU are often stricter than those in the US - especially with regard to chemicals. For instance, a number of pesticides that are used in the US are illegal in the EU, because they contain chemicals that may cause cancer.
Also, contamination limits differ greatly: In 2012, thousands of tons of corn produced in Europe, but tainted with the mycotoxin aflatoxin B1, due to fungus, were shipped across the Atlantic as animal feed - because in the EU, it would have had to have been disposed of.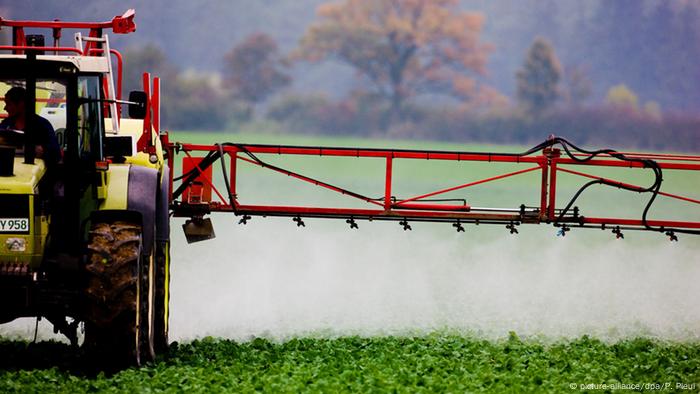 Many pesticides used in the US are not allowed on the European market
European Trade Commissioner Cecilia Malmström advocated the free trade agreement, saying last year that no product will enter the European market if it does not comply with European standards.
Investment protection still under dispute
Environmentalists are also criticizing the investment protection aspects of the planned treaty. Under this scheme, companies would be able to sue governments for damages if a country were to tighten its environmental regulations, for example.
Lawsuits like these are already happening under similar treaties, for example the North American Free Trade Agreement (NAFTA): In the 1990s, a tribunal ruled that the Mexican government needed to pay a US company $15.6 million because it did not grant permission to build a hazardous waste landfill.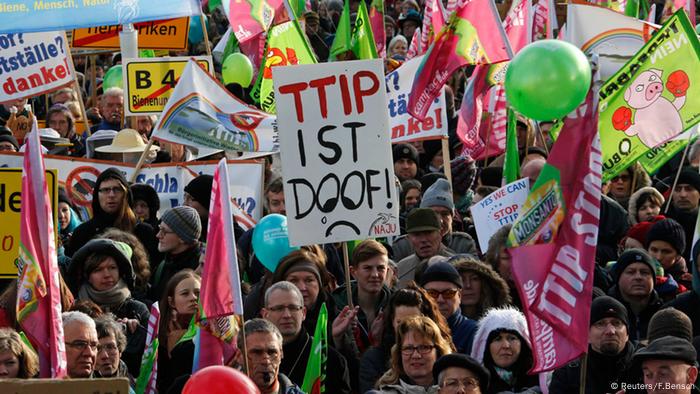 More than three million Europeans have signed a petition against TTIP
This investor-state dispute settlement mechanism, which major corporations are demanding be included in TTIP, is one of the main reasons so many people in Europe are opposing the treaty.
German Economic Minister Sigmar Gabriel - together with his French counterpart Matthias Fekl - have instead proposed a special disputes court, which would be more transparent and allow appeals.
For Bär, this is not enough: "It's a more general issue at stake: Should international investors have special rights to oppose regulations, or not?"