"I respect a lot of people, but that doesn't mean I'm going to get along with him," Trump told Fox's Bill O'Reilly in a taped interview broadcast on Sunday.
"He's a leader of his country. I say it's better to get along with Russia than not. And if Russia helps us in the fight against ISIS, which is a major fight, and Islamic terrorism all over the world - that's a good thing," Trump said.
"Will I get along with him? I have no idea," he said.
Trump has long expressed a wish for better ties with Moscow, praised Putin and signaled that US-Russia relations could be made over. Putin, for his part, has called Trump a "very bright and talented man."
Last week, the Trump administration revised the most recently imposed US sanctions, which had unintentionally prevented US companies from exporting certain consumer electronic products to Russia.
The Obama administration imposed the new sanctions on December 29, after US intelligence agencies concluded that Russia had interfered in the presidential election.
The killer question
During the interview Trump dismissed O'Reilly's concern that "Putin's a killer," saying: "We've got a lot of killers. ... You think our country's so innocent? You think our country's so innocent?"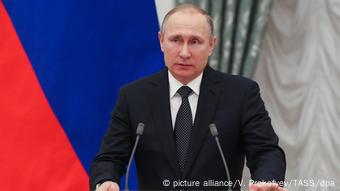 Russia's President Vladimir Putin
"Take a look at what we've done, too. We've made a lot of mistakes."
The Kremlin has demanded an apology from Fox News, calling O'Reilly's comments about Putin offensive.
"We consider such words from the Fox TV company to be unacceptable and insulting, and, honestly speaking, we would prefer to get an apology from such a respected TV company," spokesman Dmitry Peskov told reporters.
During Putin's years in power, a number of prominent Russian opposition figures and journalists have been killed.
Politicians take issue
"I really do resent that he would say something like that," Minnesota Democratic Senator Amy Klobuchar said on ABC's "This Week."
The Senate's top Republican, Mitch McConnell of Kentucky, distanced himself from the president.
"Putin's a former KGB agent. He's a thug. He was not elected in a way that most people would consider a credible election," McConnell told CNN's "State of the Union."
"The Russians annexed Crimea, invaded Ukraine and messed around in our elections. And, no, I don't think there's any equivalency between the way the Russians conduct themselves and the way the United States does," he said.
Trump on NATO
Trump expressed "strong support for NATO" and discussed the situation in eastern Ukraine in a Sunday telephone call with NATO Secretary General Jens Stoltenberg.
Trump and Stoltenberg reportedly discussed "how to encourage all NATO allies to meet their defencs spending commitments," as well as "the potential for a peaceful resolution of the conflict along the Ukrainian border," according to a White House statement.
Trump also agreed to attend a meeting of NATO leaders in Europe in May, the statement added.
Trump has questioned NATO's effectiveness and has said he plans to pressure members who don't spend 2 percent of their gross domestic product on defense to increase their spending.
"I'm absolutely certain that [...] President Trump, and the new US administration will be fully committed to NATO and to the trans-Atlantic partnership and to the importance of the security guarantees," Stoltenberg said during a press conference in January.
US Senators have launched a bipartisan investigation into Russia's alleged meddling in the 2016 US presidential election.
Officials have said they believe that Russia hacked Democratic Party emails as part of a pro-Trump campaign.
jbh/bw (AFP, AP, dpa)