Leaders of the Group of Seven (G7) began talks Friday in the ancient Italian town of Taormina on Sicily, to discuss the world economy and other global issues.
The two-day summit, at a cliff-top hotel overlooking the Mediterranean brings four fresh faces to the meeting, with the new leaders of the UK, France, Italy and the United States joining veteran G7 leaders from Germany, Canada and Japan.
"No doubt, this will be the most challenging G7 summit in years," President of the European Council Donald Tusk said before the meeting.
- Trump slams Germany's US trade surplus as "very, very bad"
- Opinion: The bull in a china shop
- Trump calls on NATO members to contribute 'fair share'
The summit has been billed as a major test for consensus-building, particularly over seemingly irreconcilable differences between US President Donald Trump and the world's other major democracies over his stances on trade, migration and climate change.
"It won't be an easy discussion," summit host and caretaker Italian Prime Minister Paolo Gentiloni admitted the evening before the meeting. "The Italian presidency will try to ensure it is a useful one, capable of bringing the different positions closer together."
It is also hoped that the final declaration will make clear some of Trump's positions that have confounded other G7 leaders.
Security
In the wake of this week's terror attack in Manchester G7 leaders have united against terrorism. But even on this normally uniting issue friction emerged after Britain yesterday said it had temporarily stopped sharing some information about the Manchester investigation with US intelligence over leaks to the media.
Trump is expected to ask G7 nations to contribute more money to fight against terrorism. On other security issues -- including Syria, Libya and North Korea – there is broad agreement. But differences may emerge over issues like Trump's plan to reduce US funding for UN peacekeeping operations.
EU Council President Donald Tusk said on Friday he agreed with Trump on the necessity to fight terrorism. "I totally agreed with him when he said the international community, the G7, the United States, Europe - should be tough, even brutal, with terrorism and ISIS" - an alternate acronym for the so-called "Islamic State" (IS).
Trump meanwhile reached an agreement with Japanese Prime Minister Shinzo Abe on Friday to expand sanctions against North Korea, as Pyongyang ramps up its missile and nuclear programs. "President Trump and Prime Minister Abe agreed their teams would cooperate to enhance sanctions on North Korea, including by identifying and sanctioning entities that support North Korea's ballistic missile and nuclear programs," the White House said in a statement following the leaders' meeting in Sicily.
Climate change
One of the most contentious issues between Trump and fellow G7 leaders has been climate change. Trump has questioned human-induced climate change and may pull the US out of the landmark 2015 Paris climate change deal.
On Friday, Trump's economic adviser, Gary Cohn, said the the president's views on climate changing are "evolving" and that he "feels much more knowledgeable" on the topic than he did previously.
A spokesperson for Germany's environment ministry said the country is "lobbying at all levels right now for the US to remain in the Paris Agreement."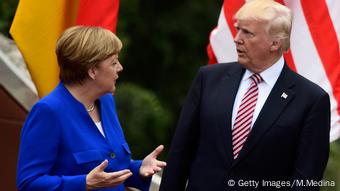 German officials have been lobyying the US to stick with Paris climate deal
Nikolai Fichter also told reporters that Germany views environmental protection as "a modernization program for national economies," dismissing the suggestion put forth by US economic adviser Gary Cohn that measures to curtail global warming could have a negative impact on the economy.
In Brussels on Thursday, European leaders including new French President Emmanuel Macron met with Trump to press the president on climate change.
Trump has said that he will not make a decision on the Paris deal until after the G7 meeting. He is likely to discover, if he already hasn't, that climate change for other G7 members is not just a question about the environment but also about security.
Trade
Another sticking point is trade amid concern Trump is pursuing protectionist policies under his "America First" policy. The new US administration earlier this year at the G20 finance ministers meeting in Germany blocked a pro-free trade declaration.
Trump has also vowed to renegotiate NAFTA, pulled the US from the TPP Asian trade pact, and put negotiations for a trade and investment treaty with Europe known as TTIP on ice.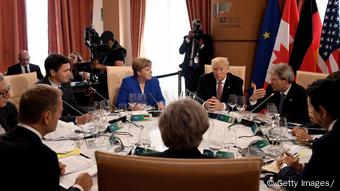 Security, trade and the environment are the key issues on the table at this G7 meeting
In Berlin, German Foreign Ministry spokesman Martin Schaefer responded to Trump's suggestion that bilateral deals might be reached between Washington and individual EU member states. Schaefer reiterated that the EU "has a common trade policy that is implemented by the European Commission" and that the bloc "has done very well as an increasingly big and powerful economic bloc by agreeing trade deals for the [entire] union and for individual member states."
He added that it could be "thorn in the side" of the US that the EU "is probably a stronger and more powerful trade bloc than the United States of America or NAFTA."
cw/rc (AFP, AP, dpa, Reuters)