US President Donald Trump has ordered the suspension of over $200 million (€162 million) in funds earmarked for "recovery efforts" in Syria, The Wall Street Journal reported on Friday.
The paper quoted White House officials as saying that the billionaire called for the freeze after reading a news report noting that the US had recently committed additional funds to the war-ravaged country.
The suspension was later confirmed by a White House official to the Reuters news agency, citing a reassessment of Washington's role in the more than 7-year conflict.
Read more: US ambassador Nikki Haley slams UN over Syrian ceasefire
A spokesperson for the White House's National Security Council said that "in line with the President's guidance, the Department of State continually re-evaluates appropriate assistance levels and how best they might be utilized, which they do on an ongoing basis."
Rebuilding projects on hold
The funds were to have been spent on infrastructure projects like power, water and roads.
Trump's desire to accelerate the withdrawal of American troops first became clear on Thursday, when he told supporters at a rally in Ohio that the US would be leaving Syria "very soon."
In reference to the 2,000 American troops stationed as part of a US-led coalition against the "Islamic State" (IS) armed group, he said: "Let the other people take care of it now."
Read more Syria: Biggest convoy yet leaves eastern Ghouta as rebel evacuation gathers pace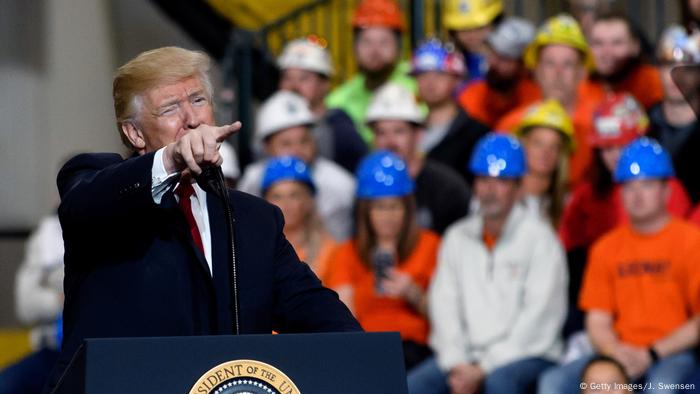 In reference to Syria, the US President told a rally in Ohio that "we are going to be coming out of there real soon."
Two administration officials, speaking to Reuters on condition of anonymity, said Trump's remarks reflected internal deliberations with advisers in which he questioned why US forces should remain while the extremist group is in retreat.
IS has been ejected from large swathes of Syria and Iraq it captured in 2014.
Agence France-Presse cited White House officials as saying that the billionaire had been wary of making a long or medium term US commitment to stabilizing eastern Syria.
Strategy about face
Bringing forward the withdrawal would mean a reversal of Washington's latest Syria strategy announced just two months ago by then secretary of state Rex Tillerson, who has since been fired.
Read more: French President Emmanuel Macron offers to mediate in Turkey-Kurdish SDF talks
Tillerson warned that Syria would need several years to stabilize, citing concerns that the jihadist group could return.
Trump's recent comments appear to have caught the US State Department off guard. A spokesman said on Friday he was unaware of any plans to pull troops out of Syria.
State Department officials remain deeply concerned about Iran's influence inside Syria, and some think a US withdrawal would cede the country to Russia, which has long supported Syrian President Bashar Assad.
mm/bw (AFP, AP, Reuters)
Each evening at 1830 UTC, DW's editors send out a selection of the day's hard news and quality feature journalism. You can sign up to receive it directly here.