On Wednesday, a court overturned a decision by the mayor of Augsburg to bar Frauke Petry, head of the Alternative for Germany (AfD) party, from speaking at a planned engagement put on by her party at the Augsburg town hall.
In an interview with the "Mannheimer Morgen" newspaper at the end of January, Petry argued for comprehensive controls to prevent unregistered asylum seekers from crossing Germany's borders.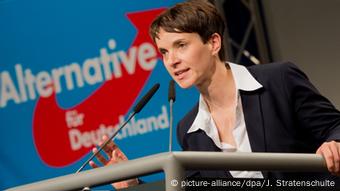 Frauke Petry, head of German AfD
She said German border guards "must prevent illegal border crossings and even use firearms if necessary."
In response, Augsburg mayor Kurt Gribl said her comments were unconstitutional and, therefore, she would not be allowed to give a speech in the historic town hall scheduled for Friday.
However, after the matter was brought before a court by two Augsburg city council members from the AfD, the court ruled that a ban was only justified if it prevented a disruption to public order or the operation at the town hall. Petry's appearance did not pose such a threat.
The decision comes as the public prosecutor's office in Mannheim announced it will not pursue a sedition investigation of Petry after her comments to the newspaper, saying her comments did not amount to a criminal act of sedition or a criminal act of public provocation to commit crimes.
Her comments were echoed by other members of the AfD, which resulted in a widespread backlash against the party. German Vice Chancellor Sigmar Gabriel called for the party to be put under surveillance by intelligence services.
mz/jil (KNA, dpa, AFP)