Whether it's drab wallpaper and tacky East German paraphernalia adorning Berlin's hip cafes, bleak prefabricated highrises that are all the rage or the success of films such as Goodbye Lenin, the German capital's hip and trendy crowd are still enamoured by the former communist East Germany's retro-socialist appeal. "Ostalgie," a twist on the German word for nostalgia (Nostalgie) seems here to stay.
With little left of the Berlin Wall, people seem to be scrambling to uncover the remaining traces of the fallen East German state in Berlin.
Enter Berlin entrepreneur Peter Massine, who has big plans to cash in on the rage for all things East German. Famous for producing the local production of the musical Grease, his company "Massine Productions" is now investing €1.2 million ($1.35 million) to set up a GDR-themed amusement park in the former East Berlin industrial district of Oberschöneweide.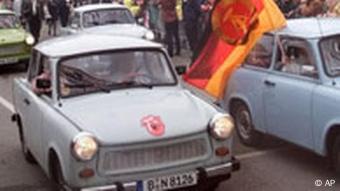 East German Trabant cars pass spectators during a procession to mark the ninth anniversary of German reunification symbolizing the fall of the Wall ten years ago in Berlin October 3, 1999.
Complete with rides in boxy East German Trabant cars (photo), guards outfitted in communist and border patrol uniforms and pedestrian traffic signals with the trademark green walking man with flat-brimmed hat and jaunty step, the sprawling park spread over 10,000 square meters is designed to capture a slice of East German communist life.
Organizers plan to hire about 20 long-term jobless East Germans over 50 years of age to play border guards, traffic policemen and canteen personnel. The GDR park is expected to open its doors next summer.
From Spreewald cucumbers to secret spies
The tour will begin with a formal arrival at a checkpoint where visitors must pass countless guards and officials scrutinizing papers and identification cards, as was the case during the Cold War, and will include a forced exchange of western deutsche marks for eastern ones.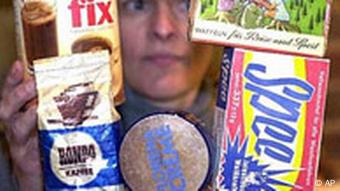 East German consumer products.
Visitors will then be able to take a trip through East Germany's sparse consumer offerings that have today become cult products in the west (photo) -- offering everything from Spreewald forest's famous small cucumbers to Vita-Cola to "Rondo" coffee to Rotkäppchen sparkling wine to drab clothes and colorful shopping bags. The organizers are even planning to build a model of the Karl Marx Allee, East Berlin's expansive shopping boulevard.
Visitors can drop in on a real East German living room outfitted with flowery wallpaper, paintings of socialist factory life and cupboards stocked with special plates marking anniversaries of the founding of the East German state. Even models of the East Germans' beloved dachas or weekend cottages with their own garden patch will offer visitors a rare glimpse into a leisurely break from the socialist system's rigid work routine.
For those craving the thrill and intrigue of the Cold War era, omnipresent Stasi (East German secret police) spies will whet the appetite. Songs praising the virtues of hard work and content will also be piped in throughout the park by outdoor speakers.
Not a GDR Disneyland
Massine said the park is primarily targeted at a German audience that would likely spark entirely different reactions from West Germans and their eastern counterparts.
But he's also hoping to lure busloads of ubiquitous jet-setting Americans and Japanese. He hopes the mini-GDR will become a highlight of their marathon bus tours to places like the postcard-pretty Neuschwanstein castle and Heidelberg, while at the same time offering what he is promoting as an authentic view of socialist Germany.
Authentic is the operative word here. Massine has stressed that the amusement park is no way conceived as a GDR Disneyland. Instead, the aim is to showcase a real slice of everyday life in the former East Germany. To that end, the organizers have been scrupulously researching the culture of the GDR and have read up on the vast documentation available about the fallen state.
Kornelia Lobmeier of the Contemporary History Forum in Leipzig said putting the amusement park in the right historical context is of paramount importance. "The amusement park is fundamentally not a bad idea when it contributes towards people dealing with the history of the GDR," she said.
Lobmeier, however, warned that if the park only superficially satisfied curiosity and fueled a nostalgic element, then it ran the danger of playing down the darker side of the GDR -- a world where neighbors spied on each other and people were denied basic rights because of their political or religious beliefs.
"The background has to be elaborated, it's not enough to just show everyday life and then everybody says, 'yeah, I know that," she said.