The Bundesliga likes to present itself as the most fan-friendly football league in the world - and not without good reason.
With relatively cheap tickets, fan-ownership, standing terraces and vibrant atmospheres, German football is able to distinguish itself clearly from the expensive and often sterile all-seater stadiums of the English Premier League.
But in recent years, as the Bundesliga has grown in popularity both at home and abroad, changes have taken place which haven't always been to the taste of traditional, match-going supporters.
A long list of grievances
Non-traditional kickoff times, personalized tickets, collective punishments, commercial club owners, threats to the 50+1 rule, spiralling transfer fees, internationalization, pre-season tours and a growing feeling that the sport is slowly being transformed into an "event" have left a significant section of fans feeling disillusioned.
In May, the notorious hardcore supporters of second-division side Dynamo Dresden (see above) traveled to their club's away game at Karlsruhe in full military outfits with a banner declaring "war on the DFB (German football association)."
Similar sentiments have since been expressed by fan groups across the country, including at almost every German Cup first-round fixture last weekend.
On Wednesday, DFB President Reinhard Grindel respondedby releasing a statement calling for a fresh start and a renewed dialogue with supporters.
So how has it come to this?
German football's relationship with its supporters is historically unique.
The German word for a club, Verein, has inherently democratic connotations whereby members have a direct say in the running of their club.
Since 1998, when the DFB first allowed clubs to convert their football teams into limited companies, the so-called 50+1 rule has required the majority of a club's shares (50 percent plus a single share) to remain with the club's members.
In other words, the clubs belong to the fans. But recent developments have caused the relationship between league, clubs and fans to become increasingly strained.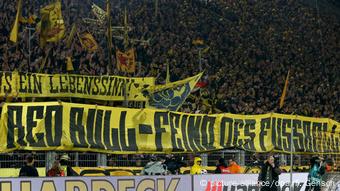 "Red Bull - enemy of football." Some see RB Leipzig as embodying the commercialization of the game
Red Bull - the embodiment of commerce?
Last season, the feeling of creeping commercialization and gentrification intensified, not helped by the success of two clubs, which many supporters believe embody all that is wrong with modern football: Hoffenheim, the village team bankrolled up the league system by billionaire software mogul Dietmar Hopp, and, more potently, RasenBallsport Leipzig, the Red Bull franchise created from nothing in 2009 and considered by many fans to be little more than a marketing vehicle for the Austrian energy drink brand.
The weekly anti-RB protests ranged from boycotts (Bayern) to banners (Gladbach) to blockades (Cologne). In February, the peaceful protests turned violent when a minority of Borussia Dortmund supporters attacked RB Leipzig fans outside the Signal Iduna Park. Inside the ground, the famous Südtribüne (south stand) was a collage of anti-RB banners, a small number of which (four per cent according to police) were adjudged to include illegal content.
As a punishment, Dortmund were ordered to close the whole Südtribüne for their home match against Wolfsburg - an example of a collective punishment whereby more than 25,000 mainly innocent fans were punished for the actions of a minority.
The supporters' ire is not directed at the so-called "plastic" clubs per se, but rather at what they represent and a system which has allowed them to exist in the first place to the detriment of others.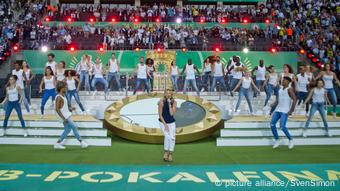 Helene Fischer's halftime show did not go down well
'HeleneFischer-ization'
In June, the DFB's plan to allow a Chinese under-20 national team to play in Germany's fourth tier caused renewed outrage. While the DFB argued that the money earned by playing the Chinese XI (30,000 euros for two matches) would benefit the clubs in the southwestern regional league, critics argued that the plan was merely a political ploy to use football as a tool in the more general diplomatic rapprochement between Germany and China.
At the German Cup final in May, derogatory chants about the DFB echoed back and forth across Berlin's Olympic Stadium between the rival Borussia Dortmund and Eintracht Frankfurt fans. A halftime performance by German singer Helene Fischer was then drowned out by whistles which were so loud that television producers were forced to audibly turn down their microphones.
Halftime shows might be commonplace at sports events in the United States but for many German football fans, such "entertainment" encapsulates the commercialization of a game which, in their minds, increasingly values television viewers, overseas fans and big-money sponsors more than those who turn up to the grounds week in, week out.
For German supporters who literally own their clubs, football is not passive entertainment. They are legally part of the spectacle and they demand to be treated as such.
'Time to stop. Time to think.'
As the new season approaches, relations between fans and authorities have never been at a lower ebb and the DFB appears to have taken notice.
"In the past weeks and months, I have been struck by the demonstrations, declarations and protests against teams and their fans," said President Grindel in his statement on Wednesday. "That is not what football in Germany stands for. It's time to stop. It's time to think."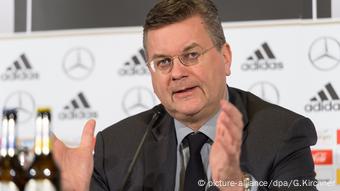 Reinhard Grindel has called for a fresh dialogue with fans
"Germany is envied around the world for the atmosphere in its stadiums," he continued. "Fan cultures with their impressive choreographies, creative displays and social engagement create a unique atmosphere. The DFB acknowledges that and we are thankful for it."
"We understand that it's about more [than a game]," he added. "Football in Germany stands for standing terraces, affordable ticket prices and the 50+1 rule. We are serious about our offer of a renewed dialogue."
Fan groups have welcomed Grindel's comments cautiously - they are still suspicious of the DFB and will remain so until convinced that their concerns are taken seriously.
But it's a start. Nobody is disputing that the Bundesliga, the DFB and German football clubs need to make money. Thanks to the increasing popularity of the country's football, all parties are in a better position than ever to do so.
However, at the start of a new season, they must not forget what makes German football what it is in the first place - its fans.