Belgian police arrested several suspects in Brussels on Saturday during raids connected to the Paris attacks, including one who was in the French capital at the time of the carnage, according to Belgian Prime Minister Charles Michel.
"A case has immediately been opened linked to suspect vehicles in Paris, to check people linked to those vehicles. There have been several arrests," Michel told RTL television.
Michel said the arrests in the district of Molenbeek were linked to vehicles identified during an investigation by French police. The possible link to the latest Paris attacks has raised fresh fears that Belgium is becoming a hotbed of militancy, coming just months after connections emerged to the "Charlie Hebdo" shootings in January and August's attempted attack on an Amsterdam-Paris train.
The federal prosecutor's office in Belgium said its counterparts in Paris had asked for help after a car with Belgian license plates and rented in Belgium was found near a concert hall where scores of people were killed on Friday night. An anti-terrorism judge took up the case because two of the people killed in Paris were Belgians, the office said in a statement.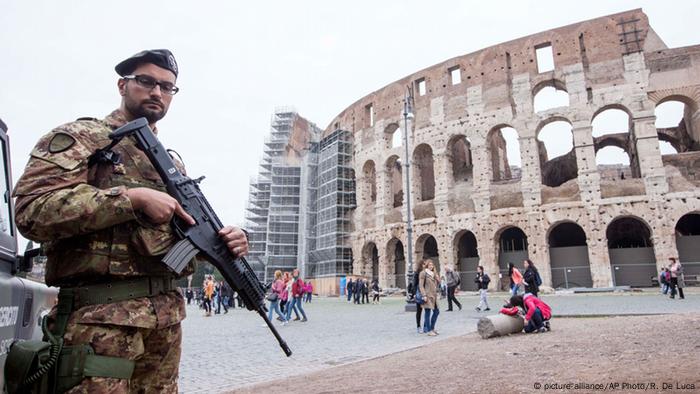 Tourists in Rome encountered increased security at popular sites like the Colosseum
Security beefed up in Rome
In Rome, soldiers and paramilitary troops toting semi-automatic rifles patrolled outside the Colosseum and inside St. Peter's Square on Saturday, as Italy joined the rest of Europe in beefing up security a day after the attacks.
Tourists visiting historic sites ended up seeing heavily armed troops, including 700 soldiers sent to boost security. Italy's Sky TG24 television said police checked sewer manhole covers on a road leading to the Vatican to ensure no explosives had been planted.
Denmark and other Nordic nations sent officers with semi-automatic weapons to patrol outside foreign embassies where usually no police are posted. And Swedish officials pledged to increase security at Saturday night's European Championship soccer playoff game between Sweden and Denmark in Stockholm.
Gatwick evacuated
Earlier Saturday, British officials called in explosive specialists and evacuated the North Terminal at Gatwick Airport after a French man got rid of an item authorities said appeared to be a firearm. The man was arrested on suspicion of firearms offences, though authorities were not sure whether the weapon was useable.
"Given the events in Paris on Friday evening, there is heightened awareness around any such incident and it is best that we treat the matter in all seriousness," said Detective Superintendent Nick May.
London was among the cities that put in place high-visibility patrols at key locations to reassure citizens, with Metropolitan Police Commissioner Bernard Hogan-Howe stressing that the "scale of the attacks and the range of weaponry used by the terrorists are a serious cause for concern."
Coordinated strikes
Three teams of extremists carried out the coordinated gun-and-suicide bombing attacks across Paris that killed at least 129 people and left 352 injured, a French prosecutor said Saturday.
Paris prosecutor Francois Molins said 99 of the injured were in critical condition after the "act of barbarism." He said that attackers in the Bataclan concert hall, where at least 89 people died, mentioned Syria and Iraq during their deadly rampage.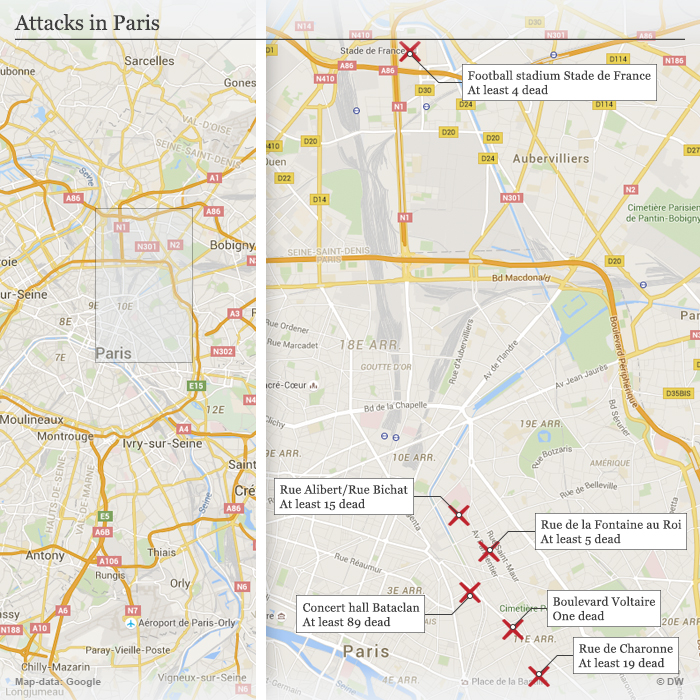 French President Francois Hollande has vowed that France will wage "merciless" war on the "Islamic State" group, after the jihadists claimed responsibility for the attacks earlier in the day.
Officials have raced to piece together information on the attackers, and have determined that one was a young Frenchman known to the authorities. In addition, a Syrian passport found near the body of another attacker was linked to a man who entered the European Union through a Greek island of Leros on October 3.
mik/cmk (AP, AFP, Reuters)