About 1,100 people stormed a Spanish district border fence, injuring at least 50 Moroccan and Spanish border guards early Sunday, authorities said.
A statement from the government representative office in Ceuta described the attempt by the migrants from sub-Saharan Africa to cross the border between Morocco and the Spanish city of Ceuta as "organized and violent."
It said migrants tried "to force open some of the doors in the external fence, using iron bars, wire cutters and large stones with which they assaulted Moroccan forces and (Spanish) Guardia Civil (police) agents."
The rush injured five Spanish policemen and 50 members of the Moroccan forces, including one who lost an eye, the statement added.
Just two people made it over the double wall, but they were badly injured and taken to hospital in Ceuta, the office said.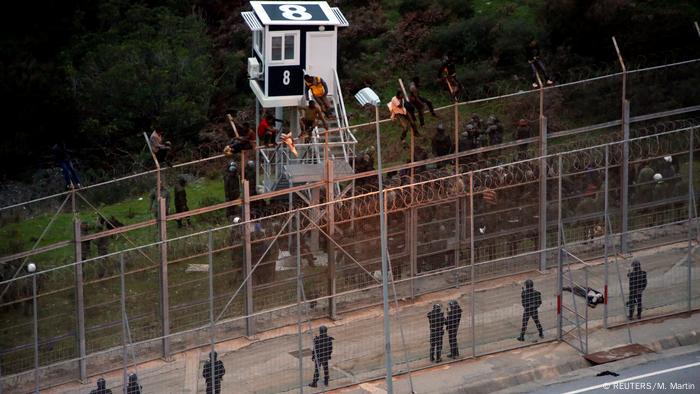 The border is a major entry point for African migrants seeking to move to Europe
The Spanish territories of Ceuta and Melilla have the European Union's only land borders with Africa. They serve as one of the chief entry points for sub-Saharan African migrants living illegally in Morocco to cross into Europe.
In December more than 400 migrants managed to enter the tiny territory of Ceuta when a group of more than 900 attempted to cross. And in October more than 200 people made it over the razor wire fence.
The latest assault on the 6-meter (20 foot) fence happened in the Sidi Ibrahim area in the early hours of Sunday, according to the Delegation of the Spanish Government in Ceuta.
In a separate incident, Spain's maritime rescue service intercepted 52 migrants, including four women and three children, in the waters south of Malaga attempting to reach Spain's southern coast.
On Sunday they were still looking for a second boat with 33 people, and another boat with 29 people on board in the same area.
Italy decided to ramp up checks on migrants and increase deportations in 2017, with authorities calling on police to be extra vigilant in the new year.
aw/se (AP, EFE, AFP, Lusa, Reuters)