According to Jose Antonio Nieto, the Spanish Interior Ministry's secretary for security, some 800 migrants from sub-Saharan Africa had attempted to enter Ceuta from Morocco in the early morning on Friday, and 438 succeeded.
The migrants tried to climb the eight-kilometer-long and six-meter-tall fence that separates the Spanish enclave from North Africa. The police and border security officials also clashed with the crowd as they tried to push them back.
Nieto said that some 49 people were treated in a Ceuta hospital for injuries, adding that none of them were seriously wounded. The Ceuta border barrier is also known as the "killer fence" because of the barbed and bladed wire that caps it.
"Fortunately, we did not have to regret any deaths or too many injuries this time," Helena Maleno Garzon, a member of the Caminando Fronteras (Walking Borders) group that works with the migrants, told The Associated Press.
Fleeing conflict and disease
Among those who have managed to cross the fence are mostly teenagers and minors fleeing conflict in Mali or whose family members have been killed in the Ebola outbreak in Guinea.
Spanish Interior Minister Juan Ignacio Zoido said most of the people who attempted to beak in have been detained.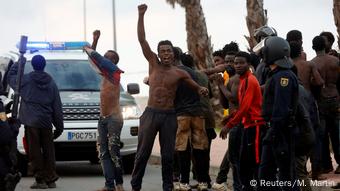 In October, 232 migrants managed to enter Spain by climbing over the Ceuta fence
Hundreds of sub-Saharan migrants live illegally in Morocco. They try to enter Ceuta and Melilla, Spain's North African enclaves, regularly. Ceuta and Melilla have the European Union's only land borders with Africa. Amnesty International and other rights groups are critical of the mistreatment of the migrants at Ceuta and Melilla and say the territories are extralegal.
So far, more than 700 Africans have managed to enter Ceuta this year. In October, 232 migrants - mostly from Ivory Coast and Burkina Faso - managed to enter Spain by climbing over the Ceuta fence. Ceuta's migrant center now houses about 1,200 people, more than twice its capacity.
shs/se (AP, dpa, AFP, Reuters)