The police have managed to round up around 50 migrants after the Monday incident but many of them remain scattered within the Spanish territory in North Africa. It was hard to determine the exact number of people who managed to enter the enclave, police sources said. However, they estimated that some 220 Africans broke through the double gate and clashed with security forces earlier that day.
According to the officials, 32 migrants were treated for minor injuries in the local hospital, with six police officers also requiring medical treatment. One African youth suffered a broken ankle while jumping from the six-meter (20 foot) fence.
Several migrants collapsed from exhaustion after crossing the barricade into Ceuta, Reuters photographs showed.
Europe via enclave
The detained migrants will be placed into a designated center.
A number of intruders were between 15 and 17 years of age and citizens of countries like Mali, Ivory Coast and Burkina Faso, according to the non-government organization Caminando Fronteras ("Walking Borders").
With a population of some 85,000, the port city of Ceuta is one of the two Spanish enclaves in Morocco. Both Ceuta and the slightly less populous Melilla served as entry points for thousands of migrants in recent years.
Rising migration figures prompted the govrenment in Madrid to boost security and grant border police the right to ban refugees from applying for asylum.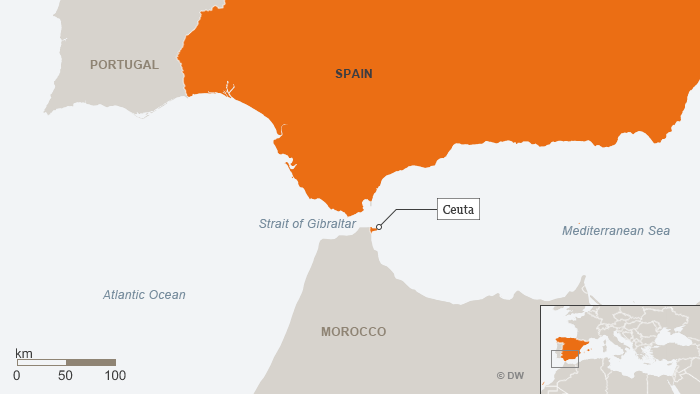 dj/msh (Reuters, EFE)