China is a huge target market for sports leagues around the world. In the late 1980s, the National Basketball Association (NBA) in the US was one of the first western leagues to show how lucrative sports marketing in China can be. Many European football leagues have since followed suit and now they are facilitators of China's drive to become a football superpower.
If it seems like European football leagues are jumping on the bandwagon, one should remember that the Bundesliga was the trendsetter. Chinese football fanatics have been able to watch Germany's top league on China Central Television (CCTV) since 1995, and its only competition at the time were Italy's Serie A and the NBA.
"Players from the league were well known to Chinese football fans," Liu Siyuan, a Bundesliga commentator for CCTV 5+, told DW. "Everyone could tell a story from their favorite player in the Bundesliga."
But as more European leagues entered the Chinese market, the Bundesliga and Serie A began to take a back seat. According to a 2016 survey by the Nielsen Sports Group, the Chinese Super League and England's Premier League captured more interest from the Chinese urban population than the Bundesliga.
Television statistics also reflect this interest. The Premier League had more broadcast time and higher penetration rates (broadcasts reaching audiences of 350 million or more) in the 2014-15 season than the Bundesliga, according to CSM Media Research statistics.
"As time progressed, Chinese sports fans got more options, and popularity of Serie A and the Bundesliga decreased," said Siyuan. "But they are still two of the most popular professional football leagues in China."
The Bundesliga has tried to make a comeback by making a stronger marketing offensive. Clubs have undertaken preseason tours in China, for example, Bayern Munich in 2015 and Borussia Dortmund and Schalke in 2016.
Bayern also opened an office in Shanghai in September of 2014, and Hamburger SV is collaborating with Super League club SPIG in Shanghai. Four clubs - Bayern, Schalke, Wolfsburg and Borussia Mönchengladbach - have even created official Chinese websites in recent years.
"German clubs are working strongly on their presence abroad and there is enormous marketing potential in the Chinese market," Jan Lehmann, managing director of Nielsen Sports in Germany, told DW.
Capturing hearts a world away
The biggest challenge every European football league faces is captivating an audience on the other side of the globe. China is seven time zones removed from Germany, but Siyuan does not see the time difference as a big obstacle.
"The time difference is indeed a very big problem, but the Bundesliga has often held live matches between 9 p.m. and 10:30 p.m." said Siyuan. "The primetime in Chinese society has extended to the later hours - the real primetime is after 10:00 p.m. And because the Bundesliga live broadcasts are not as late as the ones in Spain, it has a lot of popularity."
However, a league cannot grow just as a television program, especially with the Chinese Super League rapidly expanding. Carsten Cramer, the marketing director for Borussia Dortmund, told DW how important it was for the German club to visit China and have a physical impression in the country.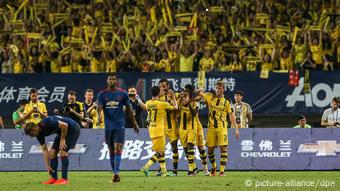 Borussia Dortmund takes on Manchester United in Shanghai
"We want to get in touch with the people, we want to touch the people's hearts. We want to give them the feeling that we are really available and approachable for them," said Cramer. When asked how he measured Dortmund's marketing success in China, Cramer said, "In counting the hearts which belong to Borussia Dortmund!"
Winning on Weibo and WeChat
It is not feasible for European clubs to travel to China for exhibition matches on a consistent basis. That makes social media a very important marketing tool, and it is a form of club engagement in which the Bundesliga has become very skilled.
Through Chinese social media channels Weibo and WeChat, the Bundesliga has captured the attention of the younger generation. Though England's Premier League has the most Weibo followers of the European Leagues, the Bundesliga beats their English counterparts in Weibo engagement and WeChat mentions, according to the 2016 Red Card China Digital Football Index from the Mailman Group.
The 2017 annual report, released Thursday by the German football league (DFL), announced that their content was shared in China over 100 million times in 2016.
"We are very happy that many people and young kids are interested in our content, that they have the mobile devices to consume the content and that we are able to generate interest in our content," said Dortmund's Cramer. "The digital world is a door opener for the future generation."
Chinese star power
China does not often produce athletes that can perform at the highest level, but when they do they become forever famous like former basketball star Yao Ming and former Olympic hurdler Liu Xiang.
They have yet to produce one in football, but Wolfsburg tried to snap up the first one when they signed Xizhe Zhang from Super League club Beijing Guoan in January 2015. The Bundesliga had seen 10 other Chinese players before Zhang, but never in the age of social media. Weibo mentions of the Bundesliga skyrocketed after his move as the Chinese seemed captivated to watch one of their own try to make it in the Bundesliga.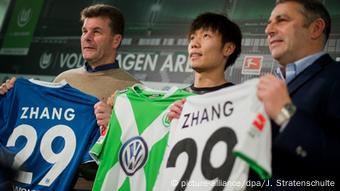 Xizhe Zhang at his 2014 introduction in Wolfsburg
But Zhang made the Wolfsburg bench in just one game and did not play a single minute in the Bundesliga. Many German media outlets called the whole situation a publicity stunt, for Zhang's move came a day after the launch of Wolfsburg's Chinese site and two days before Wolfsburg, which is backed by Volkswagen, announced a partnership with Linglong Tire - a big tire seller in China.
Marketing ploy or not, Zhang's association with the Bundesliga drew a lot of attention to the league. But there are dangers of recruiting someone too early, especially if the player does not pan out.
"We are sure and we know after talking to people in China that it would even be counterproductive to sign a Chinese player just to have him signed and this being mainly for marketing purposes," said Cramer. "Chinese people would feel insulted by one of their players sitting on the bench or sitting in the stands only and never having the chance to perform in the Bundesliga."
Maintaining a presence
Germany may not be actively recruiting Chinese players to come to Europe, but Germany is part of the development of football in China. In November 2016, officials from Germany and China, including the President of the German football league Reinhard Raubald and China's vice-premier Liu Yangdong, met in Cologne to sign the Sino-German football partnership agreement, a collaboration to develop players, coaches and referees in China. The agreement may not affect the Bundesliga directly, but it was another validation for the league in China.
"It's like a certificate approved by the Chinese government," said Cramer, who was also part of the collaboration. "It is a massive advantage to have such an entrance to the Chinese market."
Cramer also believes that more Bundesliga clubs have to do preseason tours in China, but Siuyan said that exhibitions only get so much attention. Holding official matches in China could increase the Bundesliga's popularity.
"There were times where the Serie A held official matches in China, and that was a huge success," said Siyuan. "What I would recommend is that the Bundesliga uses the Italian model and moves official matches to China. Only that could bring attention."
Additional reporting by Yan Jun.