Heavy fighting raged Friday on the outskirts of the city of Aleppo between government forces and opposition rebels, activists said, marring the UN-sponsored peace talks underway in Geneva.
"Aleppo is the key to war and peace in Syria," Rami Abdel Rahman of the UK-based Syrian Observatory for Human Rights told the AFP news agency. "Every side in the war has a stake in Aleppo."
The monitor said activists reported fierce fighting between Syrian government troops and allied militia against self-styled "Islamic State" (IS) fighters to the east of Khanasser, southeast of Aleppo city.
Syrian President Bashar al-Assad's forces are also batting Syria's al Qaeda affiliate, al-Nusra Front, and allied rebels along a northern front of Aleppo province.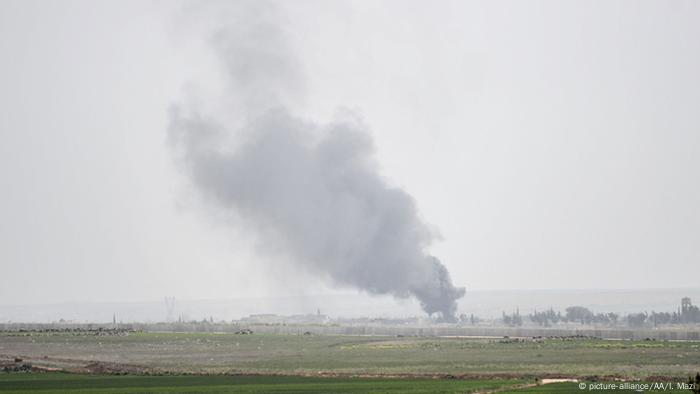 IS, al-Nusra Front excluded from truce
Russian airpower is being used to support Assad's forces as they advance on strategic rebel-held areas in Aleppo and cut a major supply route, Mahmoud al-Shami, an Aleppo-based activist told the DPA news agency.
"Troops loyal to al-Assad and their Russian allies started on Thursday a wide-scale attack on the villages of Handarat and the al-Mallahah Farms north of Aleppo," he added.
If Assad's forces succeed in routing rebels from the area around Aleppo, they could close in on rebel-controlled areas in the city proper.
Aleppo, Syria's pre-war commercial hub, has been divided between Assad's forces in the west and rebels to the east since fighting erupted for the control of the city in mid-2012.
Meanwhile, renewed fighting between IS and Western-backed fighters near the Turkish border has displaced thousands of people, Human Rights Watch (HRW) said Friday.
The New York-based watchdog accused Turkish border guards of shooting at some of those displaced in Aleppo province as they approached the frontier and called on Ankara to reopen its borders.
"As civilians flee ISIS fighters, Turkey is responding with live ammunition instead of compassion," said HRW researcher Gerry Simpson. "The whole world is talking about fighting ISIS, and yet those most at risk of becoming victims of its horrific abuses are trapped on the wrong side of a concrete wall."
IS fighters' advances in northern Aleppo in the past few days have forced already displaced people east of the town of Azaz to leave their camps, HRW said.
"At least half the camps' 60,000 residents have fled to other camps, to the Bab al-Salameh camp on the Turkish border and to the nearby town of Azaz," the group said.
Three of the camps - Ikdah, Harameen and al-Sham - are now completely empty of the 24,000 people previously sheltered there.
Talks continue in Geneva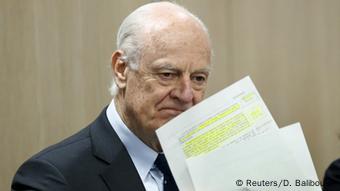 UN envoy Staffan de Mistura says he hopes continuing talks will resolve the country's five-year war
The surge in violence comes as UN Special Envoy for Syria Staffan de Mistura is due to meet later on Friday with a government delegation to discuss ways to end the country's five-year conflict that's killed more than 270,000 people.
Syria's indirect peace talks had resumed Wednesday with de Mistura shuttling between the government and opposition negotiators in Geneva.
jar/sms (AFP, dpa)