Russian military spokesman Vladimir Zolotukhin said at least 11,000 people have fled the besieged area of eastern Ghouta in Syria on Saturday amid a brutal government offensive against the last rebel stronghold in the country.
Zolotukhin, who serves as a spokesman for the Russian Center for Reconciliation, said that those fleeing were using a government-run humanitarian corridor overseen by Russia's military.
Rami Abdel Rahman, who heads the UK-based Syrian Observatory for Human Rights, cited similar figures of people fleeing the area. "Around 10,000 civilians streamed out of the rebel enclave into regime-held areas" on Saturday morning, Rahman said.
Read more: Eastern Ghouta tragedy pits neighbors against each other
Last month, Syrian government forces launched a major offensive in eastern Ghouta, marking one of the conflict's bloodiest moments since the war erupted in 2011. Russian warplanes formed an integral part of the offensive, according to war monitors, rights groups and the US.
Observers believe the weekslong offensive is an attempt by President Bashar al-Assad's regime to consolidate territory before peace talks gain traction.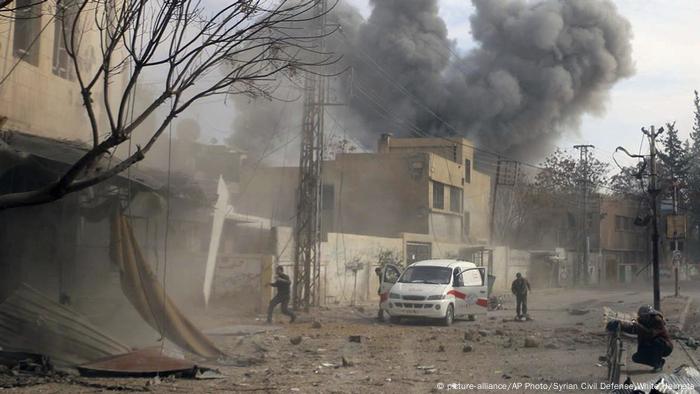 Airstrikes have indiscriminately targeted residential areas, claiming hundreds of civilian lives
'Warplanes targeted civilians'
The Observatory, which relies on a nationwide network of on-the-ground sources, said airstrikes on Saturday killed at least 30 civilians attempting to flee one of three remaining pockets held by rebels in eastern Ghouta.
"Warplanes targeted civilians in Zamalka as they prepared to flee," said Rahman. According the Observatory, the area is held by the Failaq al-Rahman rebel group.
Read more: Syrian war crimes accountability mechanism short on funds
Nearly 1,400 civilians have been killed since Damascus launched its military operation in eastern Ghouta on February 18.
On Friday, the Syrian armed forces broadcast a message on state TV, calling on residents of the area to evacuate using "corridors." The military claimed it had captured 70 percent of the territory once held by rebels.
No end in sight
Despite attempts by the UN to advance a political solution in Syria, warring parties have failed to agree on a way forward.
More than 350,000 people have been killed and millions more displaced since the conflict emerged in 2011, when government forces launched a brutal crackdown against peaceful protesters calling for the release of political prisoners and Assad to step down.
Read more: Opinion: Where the West has gone wrong in Syria's civil war
Since then, the conflict has evolved into a multifaceted war that has drawn in global superpowers, regional forces and nonstate actors, including the US, Russia and Iran.
ls/jlw (AP, AFP, dpa)