Polls closed in Switzerland at midday local time (1100 UTC/GMT), after the latest round of referendum proposals put to a public vote under Bern's system of direct democracy.
Initial results suggested that perhaps the most controversial proposal, limiting net migration per year to 0.2 percent of the current population, was overwhelmingly rejected. In Geneva, with 95 percent of votes counted, 78.4 percent had voted no.
The proposed cap would have limited net migration to barely 16,000 people per year, compared to the 80,000 registered in 2013.
The so-called "Ecopop" initiative never looked likely to pass, having met with rejection from the government and all major political parties.
Estimates from polling agency gfs.bern, published by broadcaster RTS, projected that roughly 74 percent of voters would reject Ecopop once all the ballots were tallied.
Swiss voters have already imposed a less stringent cap on immigration at a referendum earlier in the year, although the government in Bern - which opposed that proposal as well - is seeking a way to implement the measure that is acceptable to Brussels and European neighbors. A wafer-thin majority, 50.3 percent of voters, had supported the limit.
Wealthy residents, central bank breathe sighs of relief
The same preliminary results pointed to "no" votes on two other proposals that made the grade for discussion in what has become the spiritual home of the plebiscite. Under Swiss law, any petition signed by 100,000 voters must go to a national vote. Past referendums have covered topics as varied as gun control, a public smoking ban, allowing shareholders to limit executives' salaries, and assigning state legal aid to animals that might have suffered abuse.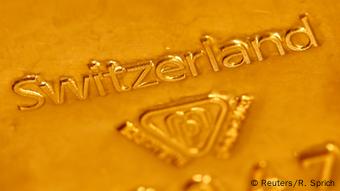 Rules on gold reserves and tax breaks also looked set to remain unchanged
On Sunday's menu was an appeal for the Swiss central bank to invest heavily in gold. The plan's proponents wanted one fifth of the Swiss National Bank's reserves to be in gold, which would have involved buying about 1,500 metric tons (1,650 short tons) in the coming 60 months.
Switzerland's wealthy residents drawn to the tax haven also looked set to offer their thanks to ordinary voters. A bid to scrap the "Pauschalsteuer" - a controversial law allowing Swiss residents who work outside to the country to pay tax on their spending, not their income - also looked set to fail just over an hour after polls closed.
F1 driver Sebastian Vettel, for instance, would qualify to pay tax on what he spends in Switzerland - his country of residence - each year, not on his income from his new deal with the Ferrari F1 team and any personal sponsorship agreements. Proponents of the rule say that it helps attract wealthy residents to Switzerland, arguing that this ultimately boosts national tax revenues.
msh/tj (AFP, AP, dpa)