Amid the domestic turmoil of a moribund economy, soaring joblessness and a government implosion, foreign policy could be a ray of hope for French President Francois Hollande.
After spearheading offensives to clamp down on the spiraling violence in Mali and the Central African Republic, the French government has now turned its sights on the Middle East. During this sleepy summer month, it prodded European foreign ministers away from the beaches and back to Brussels, where they agreed to arm Iraqi Kurdish forces fighting Islamic State insurgents. Paris also acknowledged sending weapons to Syria's opposition, opened its doors to Iraqi Christian refugees and is now pushing to host an international conference in September on terrorism.
"France seems to be one of the few EU member states that still has foreign-policy ambitions," wrote former French diplomat and deputy UN peacekeeping chief Jean-Marie Guéhenno in a commentary earlier this year posted on the European Council of Foreign Relations' website. "Against a background of economic crisis, many other Europeans seem to be becoming increasingly inward-looking and abandoning the idea of trying to shape the world of the 21st century."
Taking the lead
One other European nation is looking outward. Germany has taken the lead in trying to diffuse the Ukraine crisis and, in a break from post-war diplomacy, agreed to send weapons to Iraq. Together, analysts say, the region's two economic heavyweights and former foes may be key to crafting a more concerted European foreign policy.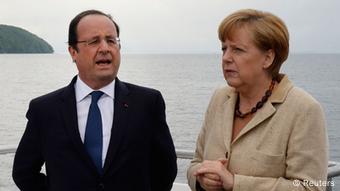 Concerted action is key
"It's not about rivalry, it is about closer and closer cooperation," says Edouard Tetreau, director of the Paris office of the European Council on Foreign Relations. "We could indeed see with these two diplomacies the shape of a more closely coordinated European action in the future."
The shape of France's 2015 diplomacy will be discussed later this week, when French ambassadors gather for their annual meeting in Paris. Significantly, German Foreign Minister Frank-Walter Steinmeier has been invited to the talks focusing on economic, humanitarian and security issues, and - with Paris hosting the 2015 United Nations Climate Change conference - environmental ones as well.
Already the two countries have carved out separate and seemingly complementary spheres of influence in addressing current conflicts. Germany has taken a leadership role on Ukraine, including the push for toughening sanctions on Russia.
"There's no way that France can play a more important role in Ukraine than Germany - or even for that matter Russia," says Steven Ekovich, international politics professor at the American University of Paris. "Germany is their backyard...or make that their front yard."
French backyard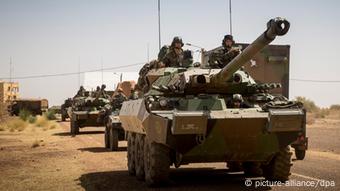 France has been praised for its Africa policies
France's backyard is sub-Saharan Africa, where it has spearheaded the military offensives in Mali and Central African Republic this year. "The American military admired the French operation in Mali," Ekovich says of last year's offensive to rout out extremists in the north. "It was quick, it was effective, it was light."
In the Middle East, France has marked a U-turn from its 2003 opposition to the American-led invasion of Iraq. Last year - and under a starkly different landscape - it pushed for airstrikes against the neighboring Syrian regime of Bashar al-Assad and for arming the country's moderate opposition. Today, it is also arming Iraqi Kurds. "If we had been followed, things would have been very different in Syria (today)," Foreign Minister Laurent Fabius told French TV last week.
Analyst Tetreau agrees, saying France "got it right" both for opposing the 2003 invasion and in pushing for a more muscular response to the present Iraqi and Syrian conflicts.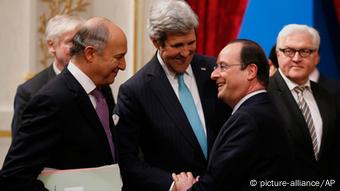 Taking the lead?
"This is not about luck or bragging about diplomatic moments. It is about intelligence on what is happening on the ground," he said. "It takes decades of presence on the ground and understanding what is happening in the region to get it right."
Common cause
In some areas, French and German national interests converge. Paris estimates hundreds of its citizens have joined Jihadists in Iraq and Syria, posing a security threat back home when they return. It's a fear shared by Germany, and helped shape Berlin's decision to arm Kurdish forces fighting the Islamic State.
More recently, France came under sharp EU criticism for pushing ahead with a warship sale to Russia, even as Europe moved to toughen sanctions against Moscow. Reports say Germany - which championed the tougher sanctions - is now helping to find a palatable solution, which might lead to the EU's acquisition of the French warships.
On some basic issues Paris and Berlin remain far apart. Hollande is weak at home while Merkel is strong. France has long balked at Germany's tough austerity prescriptions for Europe. But this year, Hollande revamped his economic policies, embracing some of the belt-tightening measures. That turnaround helped fuel this week's government reshuffle - and, some observers say, may strengthen Germany's stature in Europe against a weakened France.