Oil, gold and water - Sudan is a country rich in natural resources. But Mustafa Osman Ismail, the Sudanese investment minister, complains that the country cannot make use of many of its riches. That is why his government is trying to attract international business and ramp up interest to invest in the mining industry, agriculture, as well as in the banking sector. The minister said Sudan's potential is great, and that German business stands to benefit.
But so far, not many German companies have wanted to bring business to Sudan. The Afrian country has been repeatedly shaken by political conflict, particularly in the Darfur, Blue Nile and South Kordofan regions. In addition, there is the crisis in neighboring South Sudan to think about.
"The political situation in Sudan is quite fragile right now. There is a large chunk of the country that is currently at war. In terms of security that leaves a tiny little part of Sudan that is stable," said Annette Weber, an analyst at the Berlin-based German Institute for International and Security Affairs (SWP). "And of course that doesn't provide a very positive face for economic cooperation."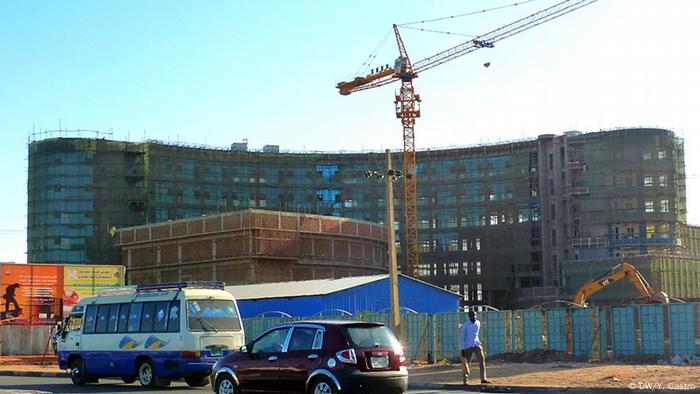 Building works in Sudan's capital, Khartoum, signal a potential economic upturn
What is more, to this day, the Sudanese economy is still feeling the effects of international sanctions. In 1997, the US placed an embargo on Khartoum and froze the funds of the government. The accusation from Washington was that the government had supported terrorists, destabilized the region and violated human rights. After the outbreak of violent clashes in the Darfur region in 2003, that embargo was followed up with further sanctions including by the United Nations and the European Union. The sanctions are still in force now.
Sudan's image problem
The sanctions don't prohibit European firms from investing in Sudan, but they do make it harder. Kilian Bälz is specialist in economic law based in Cairo. His firm, Amereller, focuses on consulting German businesses in the Arab world. He has also been active in Sudan for many years. Due to the sanctions, Bälz said, it's difficult to transfer money into or out of Sudan.
"At the same time, Sudan, due to the political developments over the last 10 years, also has a reputation problem. The Sudanese economy, as well as international companies are suffering from that," he added.
And that is despite a large number of motivated and active entrepreneurs in Sudan, according to Berit Zierz from the German-African Business Association. "Trading conditions have been affected political events, but the economy is looking towards the future."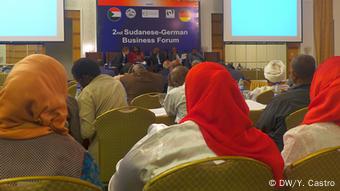 Events like the German-Sudanese economic forum aim to encourage investment
In the meantime, Sudan is actively trying to extend its economic relationship with European partners. In 2013, the country presented itself at business events in Germany, Italy and Spain. At the end of March 2014, representatives of 15 German businesses travelled to Sudan's capital Khartoum for a German-Sudanese economic forum.
Osama Rayish, the head of the Khartoum-based company Africa City of Technology, attended the meeting in the capital. He is looking for German partners in the biogas and solar energy branch, which he sees as an area of German expertise.
Rayish said he is hoping that "when foreign business come to visit they will get a better impression of our country - one that goes beyond politics."
Sacrificing human rights for profit
The International Court of Justice in The Hague has issued an arrest warrant for Sudan's President Omar el-Bashir on charges of war crimes, genocide, and crimes against humanity. Still, Germany's relationship with Khartoum has remained rather open.
The German Foreign Ministry has said that "the lawsuit against el-Bashir is one thing, Sudan as a country is another," adding that German-Sudanese relations are constructive and diverse. "We are holding talks about arms smuggling and illegal immigration. At the same time, we want to intensify the economic relationship between our two countries," the ministry said, adding that Sudan plays an important role in the Horn of Africa.
Legal expert Bälz can only confirm the statements. "If you look at German foreign policy, there is a certain tendency to try to warm up the relationship with Sudan," he said.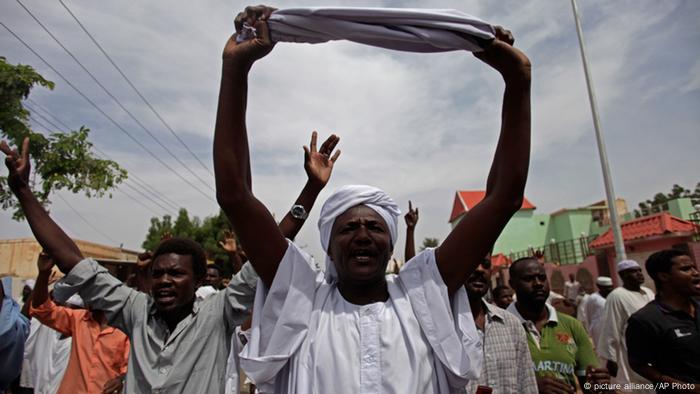 In 2013, anti-government protesters were violently dispersed by the Sudanese government
Human rights activists, on the other hand, see those developments rather critically. "The current human rights situation has continued to deteriorate and continued to see restrictions on political rights - especially restrictions around freedom of expression and freedom of association," said Manar Idriss from Amnesty International.
"The government has continued to use the national intelligence and security services to arbitrarily detain any perceived opponent of the ruling party. They have continued to censor media and to shut down public protest," she added.
That is precisely what happened in autumn 2013: thousands of Sudanese took to the streets to protest cuts on gas subsidies. The protests were also increasingly directed against the regime of president el-Bashir, who had the demonstrators dispersed by security forces, leaving more than 100 people dead.
Human rights activists have insisted that countries like Germany cannot simply ignore that type of political violence and el-Bashir's autocratic leadership style - no matter what economic profits could be on the cards.