Hamburg Mayor Olaf Scholz said police did "a heroic job" putting down protests aroundthe G20 conference. Authorities have not released casualty figures for protesters, but more than 200 police officers were injured during the clashes.
"The police operation was a great accomplishment," Scholz, a Social Democrat, said while visiting the scene of combat between armed and armored officers and protesters who battled them with bottles.
Scholz spoke alongside German President Frank-Walter Steinmeier, who also called police "heroic." His US counterpart, Donald Trump, praised the G20 officers, as well.
'Unforgivable and indefensible'
Though their tactics are generally less lethal than those of their counterparts in the United States, German police have come under a moderate amount of criticism in recent months, with journalists documenting the number of people officers have killed by shooting and a recent European court decision somewhat limiting their ability to clamp down on the borders, so the statements of support from on high have likely brought some relief to their ranks.
Some residents, journalists and politicians have countered the praise, however, saying officers' heavy-handed approach put people in danger and suppressed media coverage.
At the end of the Solidarity Without Borders march on Saturday, for example, dozens of protesters were confronted by rows of police who were blocking off roads to the harbor. Emergency services said they were treating injured people but gave no figures.
By 5 p.m. (1500 UTC) Saturday, the helicopters were hovering over Friday's flashpoints and protesters had clashed with police at intersections. Hundreds of police were at the scenes of Friday night's clashes.
"This cannot take place," Scholz said on Sunday, referring to vandalized automobiles, looted businesses and other forms of property damage committed by what authorities say was a small number of the estimated tens of thousands of protesters. "This is unforgivable and indefensible."
Many who had been present in Hamburg this weekend expressed a similar sentiment, though they appeared to be more reserved in their praise for the police.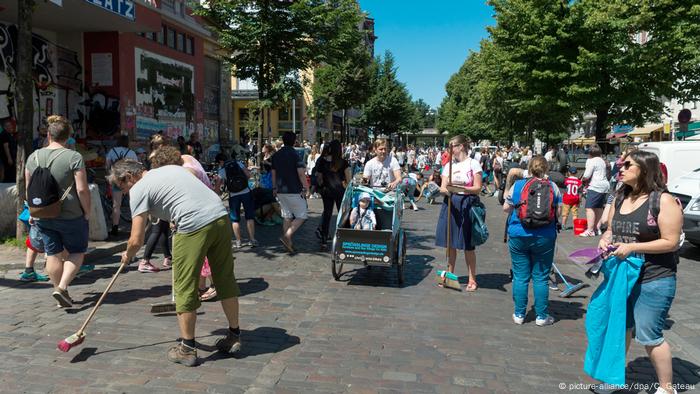 Thousands of Hamburg residents took to the streets on Sunday, this time armed with buckets and brooms, to clean up the debris left by the G20 protests.
Hamburg 'cleans up'
By Sunday afternoon, thousands of Hamburg residents took to the streets of the St Pauli neighborhood, this time armed with buckets and brooms, to clean up the debris left by the violent protests.
The neighborhood was particularly hard hit by the vandalism and looting that began on Thursday during the "Welcome to Hell" rally and continued into the early hours of Saturday morning.
A Facebook page for the clean up initiative saw some 8,000 locals registered to take part, although authorities later estimated the number to be as high as 10,000.
"We're showing solidarity with our neighbors," Hamburg resident Thorben Harms told the Deutsche Presse Agentur news agency.
Mohammed, a Syrian refugee who declined to give his surname, said he wanted to "do something for Hamburg," as token of appreciation for the city taking him in as a migrant.
mkg/jlw (Reuters, AFP, dpa, AP)