In the early hours of Sunday morning, despite the G20 leaders having already left the city, violence flared up anew in the Schanze neighborhood as rioters threw bottles and rocks, and burned trash piles, cars and street barricades, causing police to use water cannons, pepper spray and tear gas to disperse the often-masked marauders. Many of the protesters were reported to be drunk.
Police in Hamburg asked people to stay away from the area as they reported further arrests and injuries to police officers. More details would be released later on Sunday.
By early Sunday morning police reported the situation had calmed down.
Days of protests
There was no official casualty figure for the protesters, but more than 200 police officers were injured during the week's clashes. On Saturday, emergency services said they were treating injured people but gave no figures.
At the end of the Solidarity Without Borders march earlier on Saturday, dozens of protesters were confronted by rows of police who were blocking off roads to the harbor.
By 5 p.m. (1800 UTC) on Saturday, the helicopters were hovering over Friday's flashpoints and protesters had clashed with police at one or two junctions. Hundreds of police were at the scenes of Friday night's clashes.
A demonstration towards the police detention center may take place later on Sunday.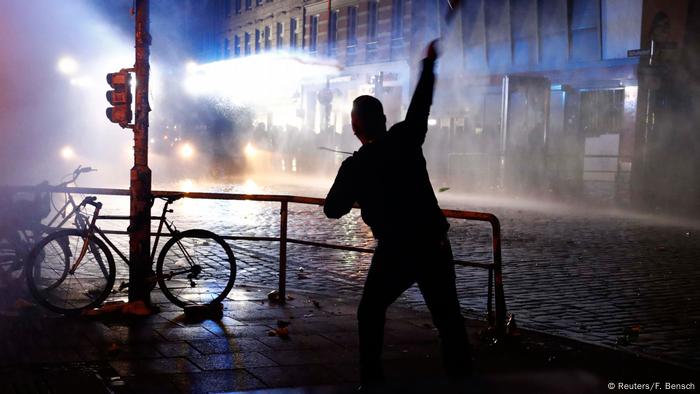 A protester throwing a bottle towards riot police in Hamburg
Huge daytime rally for Solidarity Without Borders
On Saturday, tens of thousands of G20 demonstrators filed through Hamburg's streets in a huge protest march under the slogan Solidarity Without Borders. Humor and anger mixed on the many placards and banners.
There was color, street theater, balloons and music. There were also hundreds of police officers dressed in heavy riot gear. And many people carried small cardboard signs condemning Friday's violence on the streets of the city.
"Hamburg hopes for peace and hates violence," proclaimed one young woman's sign. "If you're so outraged about the Schanze (the focus of Friday night's violence) then don't claim that Afghanistan is safe," said that of a woman opposing the deportations of refugees.
The people on the march were from a huge spectrum of organizations including anti-capitalists, left-wing parties, youth organizations, women's rights activists, environmentalists and many more. Others had simply come to voice their individual anger, often through creative costumes and homemade, artistic placards.
Halfway through the march, the organizers announced that they had counted 200,000 participants. The police had initially put the figure at 22,000 but later said the demonstration finished with around 50,000 protesters.
There were pensioners, families and people from all over the country. One couple had traveled through the night from the very south of Germany. They wore hats saying "global solidarity," each oddly topped with a stuffed chicken.
Many highlighted the mass drowning of displaced people in the Mediterranean Sea. Two people were suspended in harnesses from a pedestrian bridge above the road beside a banner saying: "G20 - we are not everyone. The drowned ones are missing."
The world's climate, global inequality, the arms trade and neoliberal policies were other prominent themes.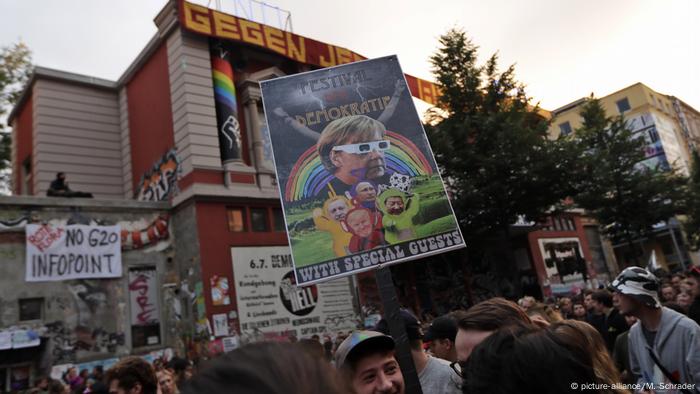 There had been rallies and protests ahead of the summit in Hamburg
Clean up
Furious residents came out to help the council staff clean up on Saturday. Bettina Emig, who has lived in the Schanze for years, said: "This is incredible. I've never experienced anything like it here. They were troublemakers and this had nothing to do with protest. It's terrible.
"And the helicopters, up with their beams till 3 a.m. - it was like a war zone. The mayor of Hamburg, Olaf Scholz, should resign for inviting the G20 to the city. He really should."
Elisabeth Popek, a Polish resident, lives on the fifth floor above a bank that was trashed. "I was so frightened," she said, visibly shocked. "There are many protests here. Yesterday was different. It is the first time I was scared. Everyone is saying, 'Why do they cause such damage in their own quarter?'"
Many came out of their homes with brooms and shovels to help clear away the debris. "You have to do something," said another woman. "It's no use just standing here staring at it all."
The owner of a looted pharmacy estimates that the business will cost 400,000 euros ($456,000) to repair. German Chancellor Angela Merkel has pledged compensation for those who have suffered financial losses due to the trouble.
With hundreds of injured people, damage amounting to millions of euros and a gathering that cost around 100 million euros to host, the question remains: Should the G20 summit really have been brought to central Hamburg at all?