Popular German newspaper the Bild Zeitung recently described US President Donald Trump's attendance at the ASEAN summit in Manila as "gaga". The 71-year-old president was ridiculed when he failed to do the traditional cross-over handshake correctly and provoked laughter with his contorted maneuvers.
His speeches were contorted in each of the countries that he visited. In some parts of Asia, he has earned himself the nickname of the Mr Bean of global politics.
Read more: Opinion: Donald Trump, the illusory giant
Trump's involuntary comic side came out even in his more serious speeches. It was clear even when he was talking to the South Korean parliament and to the Asia-Pacific Economic Cooperation (APEC) that the US had little of substance to offer the Indo-Pacific, as Washington has begun calling the Asia-Pacific region in order to include India as a strategic partner against China and its ever-increasing power.
Xi Jinping has money and a plan
But this seems to be more hope than reality. Trump does not have money. His army is controversial. US values have long been discredited and Trump's charisma does not have a universal impact. Even if Trump means well, which he surely did in Asia, the odds are against him. Chinese President Xi Jinping has money and a plan. He might have less charisma and is more pragmatic when it comes to values, but he is successful. The New Silk Road is only one of China's many impressive projects.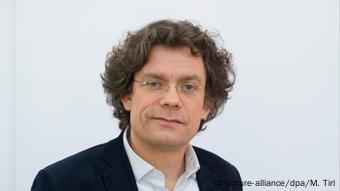 DW columnist Frank Sieren has lived in China for more than 20 years
It's tough for Trump by comparison. The future of the US depends on a good relationship with the 10 member states of ASEAN - Indonesia, Malaysia, Thailand, Singapore, the Philippines, Brunei, Vietnam, Cambodia, Laos and Myanmar. They comprise a market that is now the third-largest in the world and growing at a rate of 5 percent. Trump has not been able to regain the trust that was lost when he unilaterally dropped the Trans-Pacific Partnership (TPP).
Read more: How China's Xi upstaged Trump as the 'world leader'
It did not help that Trump called on Asian states to put their own interests at the forefront, a la "America First" during his campaign. He said that the multilateral TPP free trade agreement was a job-killing disaster for the US and effectively ended it on his first day in office. His predecessor Barack Obama had seen the TPP as a chance for the US economy but also as a counterweight to China, which was not invited to join. Now the rest of Asia has decided to shrug its shoulders and cosy up to China after all. It must come as little comfort to the US to know that the remaining 11 TPP states, including Japan and Australia, still want to work on a free trade agreement even without Washington.
Even traditional partners looking toward Beijing
The systemic struggle for "Western values" and "democracy" no longer makes sense if Washington wants to gain respect. Even traditional partners of the US such as Thailand and the Philippines have now taken Beijing's centralizing government model as an example. They still want to work with the US but will not join forces against China. On the contrary. Apart from North Korea, "a hell that no person deserves," to quote Trump himself, there was hardly any mention of human rights in the traditional Western sense during the president's Asia trip.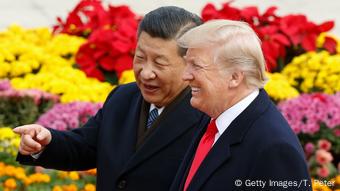 Xi Jinping has ambitious plans for China
When he met Xi Jinping, he spoke up for three college basketball players from Los Angeles who were recently arrested for shoplifting in the southern city of Hangzhou. The fact that 50 famous writers from all over the world had asked him to speak up for the release of Liu Xia, the widow of the late Nobel prize winner Liu Xiaobo, in an open letter, did not seem to interest Trump in the slightest. Even if he had no personal interest, he missed a chance of winning a political power game.
A botched handshake becomes a symbol
When he spoke against China's fraudulent trade practices at the APEC summit, without specifically mentioning China by name, Trump was not applauded. He sent out contradictory signals at the ASEAN summit in Manila, expressing platitudes about "successful relations" and about wanting to act as a mediator.
His botched handshake at the ASEAN summit thus became a symbol that has far more consequence than the viral laughter. Trump's 12-day visit will be remembered as an awkward attempt to walk on eggshells and might go down in history as a milestone in the decline of a world power which cannot demonstrate moral superiority even in the West.
DW's Frank Sieren has lived in Beijing for over 20 years.