Speaking at a business conference in the Russian port city of Vladivostok, Japanese Prime Minister Shinzo Abe addressed the dispute over the islands, known as the Northern Territories in Japan and as the Southern Kuriles in Russia.
"As the leader of Japan, I am firmly convinced of the correctness of Japanese position, while you, Vladimir, as the leader of Russia, are entirely confident of the correctness of the Russian position," Abe said.
"Yet, if we continue like this, this very same discussion will continue for yet more decades to come. By leaving the situation like this, neither you nor I will be able to leave better possibilities to future generations," Abe added.
Seized by Soviet troops at the end of World War II, the island chain has soured relations between Japan and Russia for over seven decades. No formal treaty has been signed on the issue.
On Saturday, Russian President Vladimir Putin said he was ready to take decisive steps to resolve the problem.
"The past should not be an obstacle to moving forward. In order to solve them, we of course need a level of trust. It's a tricky solution, but we can achieve it," Putin said.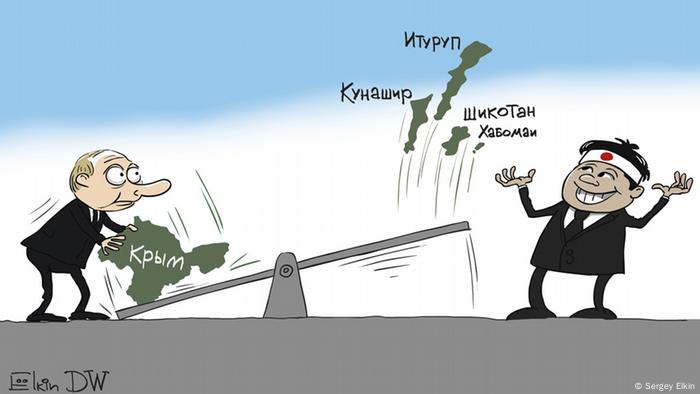 A caricature by DW cartoonist Sergey Elkin shows Putin focusing more on Crimea, as his attention shifts from the Southern Kuriles. Shinzo Abe looks happy
Tensions with Pyongyang
At Saturday's meeting, which was also attended by South Korean President Park Geun-Hye, Putin said Russia favored reviving talks with North Korea. He urged Pyongyang to adhere to international nuclear deals, but said "any actions that would provoke further escalation [of tensions] are counterproductive."
Earlier, Park had urged giving a "strong unified message" to North Korea so that it would abandon its nuclear program.
"If North Korea abandons its nuclear program and chooses the path to openness, we, together with the international community, will be ready to actively support it," Park said.
Tensions on the Korean Peninsula have grown since January, when the North conducted its fourth nuclear test. A series of missile tests followed, including one in June, where one of the Musudan rockets fired achieved a height of 1,000 kilometers (600 miles) and demonstrated a capacity to fly more than 3,000 kilometers.
Last week, North Korea launched a missile from a submarine that traveled 500 kilometers and was caught on Japanese radar.
mg/sms (Reuters, AFP)