Poland, Greece, Italy and Turkey were among the countries grappling with heavy snow and freezing temperatures on Saturday, while Germany braced itself for dangerous conditions in the wake of a major storm from the north.
In Poland, at least ten people have reportedly died in the past couple of days following a brutal cold snap that saw temperatures fall to minus 14 degrees Celsius (7 degrees Fahrenheit) in some regions. Several of those deaths were caused by hypothermia, while others resulted from carbon monoxide poisoning from malfunctioning heaters.
Polish authorities said they expected the death toll to rise as weather conditions were likely to remain unchanged for the rest of the weekend. In neighboring Ukraine, at least four people have died near the Polish border from effects of the cold, and in Belgium, one man died after his truck slid off an icy highway.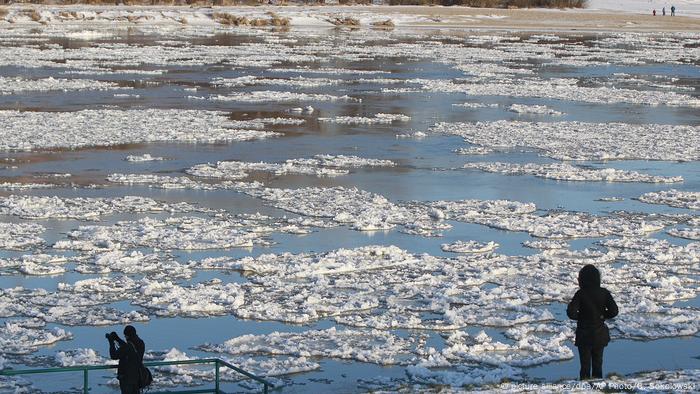 People watch ice floating on the Vistula River in Poland
Russia meanwhile celebrated its coldest Orthodox Christmas in 120 years, authorities said. Temperatures in Moscow fell to minus 30 degrees overnight and minus 24 in Saint Petersburg, where police found the body of a man who had died of hypothermia.
Fog, black ice and more
Southern Europe has also experienced bouts of uncharacteristically cold weather in recent days, with wind and snowfall closing roads and train services in central Italy and cancelling many planned events to coincide with Epiphany, or Three Kings' Day.
Pope Francis on Saturday distributed sleeping bags to the homeless in Rome and provided vehicles to sleep in as the unusually cold spell of weather has led to several deaths, primarily among the homeless.
In Istanbul, heavy fog forced authorities to close off the Bosphorus to all naval traffic, while poor weather conditions have also grounded hundreds of flights.
Germany meanwhile was experiencing the aftereffects of Storm Axel, which struck northern Germany earlier in the week and has brought minus-30-degree-Celsius weather to parts of the country, as well as other surprises.
The Deutscher Wetterdienst, which provides weather services for the public, has warned people to stay indoors, emphasizing especially the danger of black ice.
The coldest temperature in Europe so far this winter was recorded on Friday in the Swiss village of La Brevine at minus 29.9 degrees. The record for the coldest temperature ever in Switzerland is minus 41.8 degrees on January 12, 1987.
blc/se/jbh (dpa, AP, AFP)