Flight records and other evidence points to Poland and Romania as countries that allowed their territory to be used by the the United States' Central Intelligence Agency to hold top al Qaeda suspects captives, a Human Rights Watch director said.
Tom Malinowski, the Washington director of the human rights group, said the evidence, though circumstantial, strongly pointed to Poland and Romania as being among the unidentified eastern European countries referred to in a Washington Post report Wednesday on secret CIA-run prisons.
Malinowski said sources in Afghanistan told the human rights organization that top al Qaeda suspects, including Khalid Sheikh Mohammed, were moved out of Afghanistan in September 2003.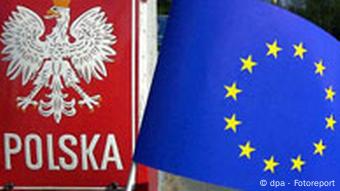 Poland's ties with the US are as strong as with the EU
The same month, a Boeing 737, leased by the CIA to transport prisoners, departed from Kabul and made stops at a remote rural airfield at Szynany, near a Polish intelligence facility at the town of Szczytno in northeastern Poland and later at a military airfield in Romania known as Mihail Kogalniceanu before continuing on to Morocco and then to Guantanamo Bay, Cuba, he said.
"It's a large aircraft so one could imagine a large group of detainees flying on this plane, as against some other smaller executive jets that they used," he told AFP. "The fact that it stops in eastern Europe, then Morocco and then Guantanamo suggests different classes of prisoners being deposited in different places."
In Brussels, a spokesman for HRW's Belgian branch, Jean-Paul Marthoz, said "inquiries up until now seem to indicate that Poland and Romania are the countries that received prisoners held by the CIA."
He refused to rule out the CIA could be holding "ghost prisoners" elsewhere in eastern Europe.
EU satisfied
The European Commission has no specific suspicions that the US Central Intelligence Agency (CIA) is running secret prisons in eastern Europe, a spokesman said on Friday.

"At this time we do not have any specific suspicion," said Friso Roscam Abbing, spokesman for justice and security affairs at the EU's executive arm.

He said the commission was also satisfied with official denials from Romania and Poland that such facilities existed on their territories.

"I think the statements by the Romanian and Polish authorities are crystal clear," Roscam Abbing said. "All of those official declarations deny the existence of such possible prisons. We do not see any reason now to ask for further clarification at this point in time. Having said that, we will continue to monitor the situation."
The EU Commission had said Thursday it would review whether the CIA operates secret prisons in Eastern Europe, noting that such facilities would not comply with EU treaties.
ICRC "increasingly concerned"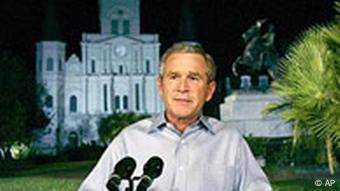 The White House won't admit or deny the CIA prisons
The International Committee of the Red Cross said Friday that it had so far failed to reach an agreement with the US about access to terror suspects held abroad secretly, despite some two years of talks.
Following newspaper reports this week about secret CIA prisons for terror suspects abroad, spokeswoman Antonella Notari said the ICRC had been pressing Washington on the issue since at least January 2004.
"The ICRC, for some time already, has repeatedly raised the issue of receiving notification and subsequently access to persons held in undisclosed places of detention, in the context of the so called 'war on terror,' she said. "We have not reached an agreement with the US authorities so far -- our confidential dialogue with them continues."
The ICRC currently conducts confidential visits to detainees held at the US military base at Guantanamo Bay and in Afghanistan and Iraq. Notari said there had been instances in which US had given news of an arrest but the detainee was not at any of the locations the organization had visited.