A group of between 100 and 250 people demonstrated against the first so-called "collective deportation" from Germany this year.
"We are protesting against deportations to a country like Afghanistan," said Sarmina Stuman of the Afghan Refugees Movement, who organized the demonstration.
Deportations to a war zone are inhumane and irresponsible, said asylum advocacy group Pro Asyl and the "Paritätische Wohlfahrtsverband," an independent welfare association.
The group of 26 young men left Frankfurt late Monday night. The group consisted of convicted criminals and single men, who had been living mainly in Bavaria, Baden-Württemberg and North Rhine-Westphalia.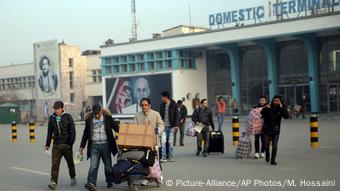 The first 'collective deportation' to Afghanistan under the program was in December
Germany to deport 11,900 Afghans
Of the approximately 250,000 Afghans living in Germany, about 11,900 were required to leave the country from mid-December, according to the German Interior Ministry. It was part of a new plan after Germany signed a memorandum of understanding with Kabul.
The agreement came after pressure from Interior Minister Thomas de Maiziere to speed up the asylum application procedures of people considered to have little chance of being granted asylum.
The so-called "collective deportations" are controversial in Germany because large parts of Afghanistan remain violent and it is not on Germany's official list of "safe countries of origin."
This was the second collective deportation of Afghans, after a mid-December charter flight carried 34 rejected asylum seekers to the Hindu Kush. Among those deportees were criminals, but there were also Afghans who had lived in Germany for years, as well as members of religious and ethnic minorities.
aw/se (dpa, AFP, EPD)