One of the most illustrious and successful filmmaking careers in Hollywood history began in a Berlin apartment with a publicist, a big-time producer, a jilted lover and a sometime hooker.
Pressed into doing a favor for his landlady's daughter, sometime prostitute Lulu, 20-year-old Billy Wilder offered to take her client into his apartment before her raging boyfriend returned home. He soon realized the naked man standing in his apartment was a man known only as Galitzenstein, the president of Germany's Maxim Films.
Not wasting any time, Wilder, who had worked as a police reporter and publicist up to that point, introduced himself as a screenwriter and gave Galitzenstein a script to read.
Hearing the jealous boyfriend in the next room swear to cut the throat of any man caught with Lulu, Galitzenstein hefted the book and said, "I'll buy it. It feels like a good story."
The anecdote, offered by Wilder biographer Maurice Zolotow, fits seamlessly into the colorful, sometimes tragic, sometimes uprorious life, Wilder a Nazi refugee fashioned for himself. The award-winning director and author of more than 50 films died this week in his Hollywood home at the age of 95, friends said on Thursday.
Record-breaking filmmaker
Wilder was the first and only person to win three Oscars, collecting best screenplay, best director and best producer honors for his 1960 dark comedy, "The Apartment." They were three of a total of six Oscars Wilder won for his work, which spanned more than four decades.
He once explained his eye for making hits and immortal films quite simply:
"I just always think, `Do I like it?' And if I like it, maybe other people will come and like it too."
Critics used more complex phrases in describing his work. They talked about his Middle European cynical romanticism, an essence that followed Wilder from Berlin to Paris and then Hollywood in 1933.
His works probed the frailties of human kind: Alcoholism, in "The Lost Weekend," (1945) adultery and murder in, "Double Indemnity" (1944), fading stardom and, yes, cynicism, in Sunset Boulevard (1950).
"Wilder is often called cynical, mostly, I think, because his movies seldom offer us helpful hints to better lives," former New York Times critic Vincent Canby once wrote. "He doesn't deal in redeeming social values. Instead, he sees the demeaning ones."
Nicknamed after Buffalo Bill
The son of a railway cafe owner and a resort hotel owner, Wilder was born Samuel Wilder on June 22, 1906 in Sucha, a part of Poland once part of the Austro-Hungarian empire. His mother, who had spent some of her youth in America, was a big Buffalo Bill fan and nicknamed him Billy.
The name stuck after young Wilder moved to Vienna to attend the University of Vienna. He lasted three months before dropping out and becoming a tabloid newspaper reporter. He moved to Berlin in 1926 to work as a freelance journalist and ghost-write scripts. It was there he met the mysterious Galitzestein and started his career.
He wrote or collaborated on a dozen screenplays before fleeing Germany in 1933, a day after the Reichstag Fire.
"A lot of my friends had a fear of going into a country where they didn't speak the language, so they went to Vienna or Prague, which was very short-sighted," he once said. "I sensed it was best to go as far as possible. I was on the train to Paris."
Wilkommen in Hollywood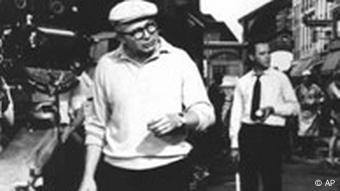 FILE--Billy Wilder, foreground, gives actor Jack Lemmon some direction during the filming of Wilder's 1963 movie "Irma La Douce," in this 1962 handout file photo in Paris. Oscar-winning filmmaker Wilder, the Austrian-born cynic whose gifts for writing and directing led to such classics as ``Sunset Boulevard,'' ``Some Like it Hot'' and ``Double Indemnity,'' has died, a family friend said Thursday, March 28, 2002. He was 95. (AP Photo/WNET, File)
A short time later, in 1934, he followed many of Berlin's filmmaking elite to Hollywood , speaking absolutely zero English.
He didn't let that deter him, throwing himself fully into his new life and new home.
"Most of the refugees had a secret hope that Hitler would be defeated and they could go back home, he said in a 1990 interview. "I never had that hope. This was home. I had a clear-cut vision: 'This is where I am going to die.' "
Bucking the expat trend, he avoided the cafes where the German refugees hung out, preferring to stay in his apartment listening to the radio and learning 20 new English words a day.
The wordsmith
He eventually mastered the language and more. His caustic wit and biting sarcasm left the world with a lexicon of Wilder-isms that look to last long after his death.
He wooed his future wife by telling her "I'd worship the ground you walk on if you lived in a better neighborhood." He told one actor "You have Van Gogh's ear for music," and assured Walter Matthau that "we're on the track of something absolutely mediocre."
He struggled along financially until, two years later, Paramount hired him and teamed him with Charles Brackett, a Harvard grad and film critic. The unstable and divisive screenwriting pair would go on to produce 14 consecutive hits, including the celebrated Hollywood-on-Hollywood drama Sunset Boulevard (1950).
He returned to Germany for a brief period following the war to learn his mother, stepfather and grandmother had been killed at Auschwitz. As a US Colonel, he was charged with making sure no former Nazis worked in the budding German arts and film industry. When a local director asked if a known Nazi could play Jesus in the annual Easter play he replied; "Permission granted, but the nails have to be real."
Award-winning return
His return marked the most award-winning period of his filmmaking career. After collecting screenplay and directing Oscars and the Cannes Film Festival Palm d'Or for "The Lost Weekend" in 1945, he won a screenplay Oscar for co-writing Sunset Boulevard in 1950 and his three Oscars for "The Apartment" in 1960.
He worked with Tony Curtis,. Barbara Stanwyck, Gloria Swanson and Marylin Monroe and was the first to pair Jack Lemmon and Matthau. Most of his actors cherished their abrasive and passionate director.
"I learned more from him than anyone else," wrote Shirley MacClaine in a statement Thursday. "I will miss him till we meet again."
"all roads lead to Billy Wilder"
After his 1981 flop "Buddy, Buddy," producers stopped calling and Wilder never worked again. He often expressed sadness over the fact and joked about the scores of lifetime achievement awards handed him in the 1980s and 1990s, calling them "Quick before they croak!" awards.
The caustic and feisty director, producer and screenwriter had been battling a variety of ailments in recent years, but still managed to go to his Beverly Hills office every day well into his 90s. He only gave up his four-pack a day smoking habit recently. Friends said he died peacefully in his sleep.
The Filmmaker Cameron Crowe, who published a series of interviews with Wilder in 1999, said his movies "are a world-wide language of love, intelligence and sparking wit. To any fan of film or any student of how a great life is lived, all roads lead to Billy Wilder."